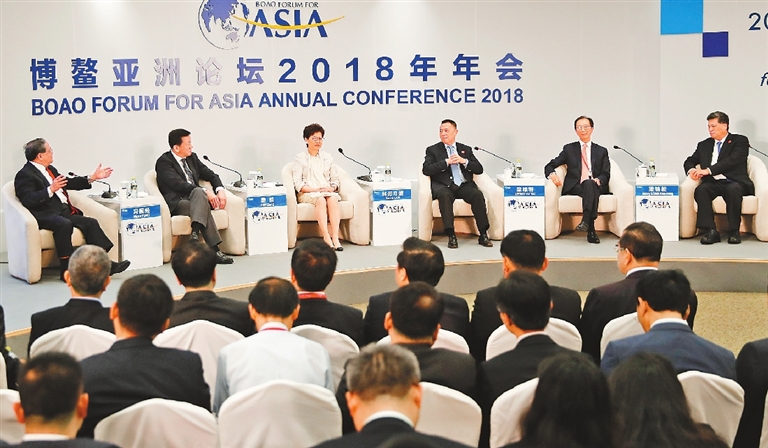 THE 2018 edition of the Boao Forum for Asia (BFA), also known as Asia's Davos, has drawn widespread media attention ahead of President Xi Jinping's keynote speech at the opening ceremony of this year's conference, which will happen today.
The four-day event themed "An Open and Innovative Asia for a World of Greater Prosperity" is being held in the southern Chinese island province Hainan.
"All eyes are on Mr. Xi's address at the Boao Forum" after State Councilor and Foreign Minister Wang Yi said last week that Xi will announce new measures to expand reform and opening up "that launched China's economic boom," the Singapore-based paper The Straits Times said yesterday.
"Mr. Xi set out his defense of globalization at the World Economic Forum in Davos last year," Bloomberg news said Sunday.
In a commentary, Bloomberg said Xi will deliver his speech at the BFA dedicated to "reassuring the hundreds of foreign investors present that U.S. protectionism won't produce the same in the world's second-largest economy."
In a commentary titled "Xi to present market-opening moves at Boao Forum," Japanese financial newspaper Nikkei Asian Review said Saturday that "as this year marks the 40th anniversary of China's landmark economic reforms, which opened the country to the world, international attention is focused on how Xi plans to steer the reform effort from here."
"It was fitting, therefore, that Xi should use the occasion to assure the world that China remains open for business," the Hong Kong-based South China Morning Post said Sunday.
The forum will be attended by more than 2,000 political and economic leaders, including the heads of large multinational companies, both Chinese and international.
Also yesterday, former United Nations Secretary-General Ban Ki-moon was elected chairman of BFA, replacing former Japanese Prime Minister Yasuo Fukuda.
Chinese Vice Foreign Minister Li Baodong was appointed BFA secretary-general, said a statement released after the meeting of the newly elected Board of Directors of BFA yesterday.
Former central bank governor Zhou Xiaochuan was designated as China's chief representative to BFA. According to the BFA Charter, Zhou is ex-officio member of the Board of Directors and vice chair of BFA.
Of the 19-member BFA Board of Directors, 12 are newly elected, including Ban, Zhou and Li. Other new directors are former senior government officials, business leaders, or other eminent persons from Asia and around the world.
Proposed in 1998 by former Philippine President Fidel Ramos, former Australia Prime Minister Bob Hawke, and former Japanese Prime Minister Morihiro Hosokawa, BFA was formally inaugurated Feb. 27, 2001.
Boao has been the permanent venue for its annual conference since 2002.
After 17 years of development, BFA has become a high-level dialogue platform for governments, enterprises, experts, scholars and business leaders to jointly discuss the economy, society, environment, new high-tech, innovation, financial reforms, investment, trade and other issues essential to the future of Asia.
It also offers a significant platform for other countries to better understand China's diplomacy as well as China's initiatives such as the Silk Road Economic Belt and the 21st Century Maritime Silk Road.
(Xinhua)