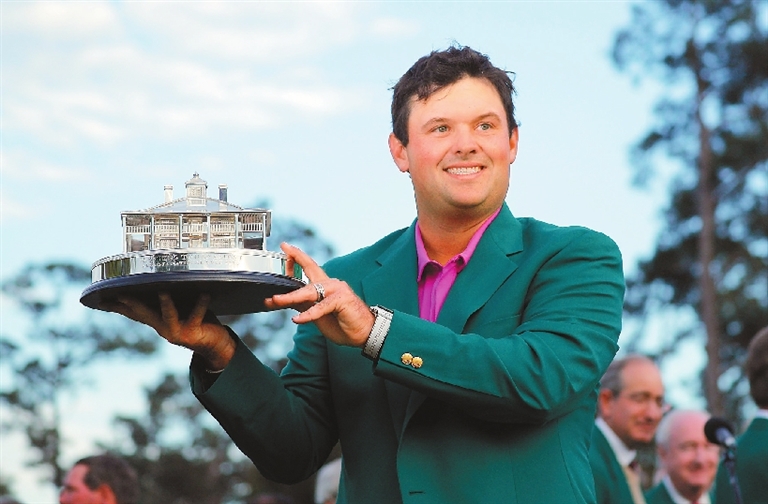 PATRICK REED, a resident of Spring, Texas, became famous playing for his country. He won for himself Sunday at the Masters.
It was never easy, just the way Reed likes it.
Rory McIlroy came after him early. Jordan Spieth roared to life with a final-round charge and briefly caught Reed with a 35-foot birdie putt. The last challenge came from Rickie Fowler, who birdied the last hole to leave Reed no room for error.
Reed never flinched throughout a raucous afternoon at Augusta National.
Clinging to a one-shot lead, his 25-foot putt down the slippery slope on the 18th green ran 3 feet by the hole as Reed pressed down both hands, begging it to stop. From there, the 27-year-old Texan calmly rolled in the par putt for a 1-under 71 and a one-shot victory.
"To have to par the last hole to win my first major, it definitely felt right," Reed said from Butler cabin, right before Sergio Garcia helped him into a green jacket.
The loudest cheers were for everyone else. Reed earned their respect with two big birdie putts on the back nine, one crucial par putt and plenty of grit. He also had a little luck when his 80-foot putt across the 17th green hit the hole, keeping it only 6 feet away. He made that for par to stay in control.
Reed won for the sixth time in his PGA Tour career, though he was best known for the trophies he shared at the Ryder Cup and Presidents Cup. He is ferocious in match play, especially the team variety, and his singles victory over McIlroy at Hazeltine in the 2016 Ryder Cup led to the nickname of Captain America.
Captain America is now the Masters champion.
"He's not scared. I think you guys have seen that previous from the Ryder Cups and the way he plays," said Fowler, who closed with a 67. "He won't back down. I don't necessarily see him as someone that backs up and will let you come back into the tournament. You have to go catch him."
Fowler did his best with three birdies in a four-hole stretch, and an 8-foot birdie on the final hole. It still wasn't enough. Fowler was runner-up for the third time in a major. He left the scoring cabin when Reed tapped in for par.
He became the fourth straight Masters champion to capture his first major.
Reed once claimed after winning a World Golf Championship at Doral that he was a top 5 player in the world, which subjected him to ridicule. This victory moves him to No. 11. It also comes with a green jacket, which earns far more respect and notoriety.
(SD-Agencies)