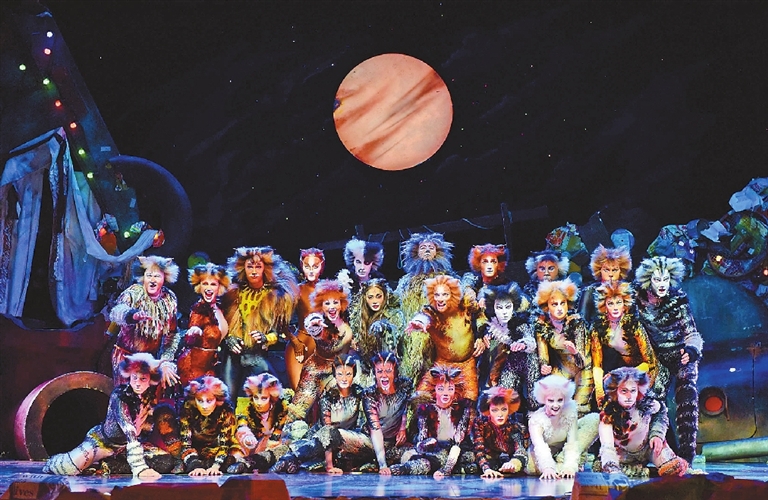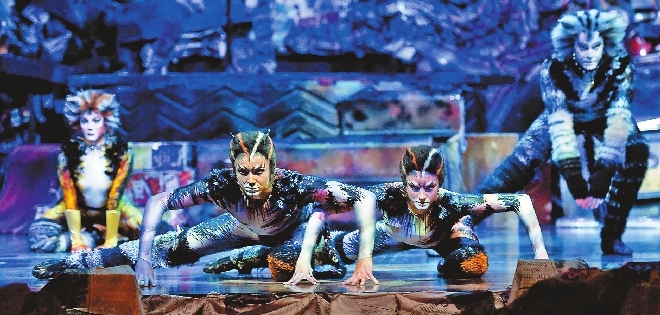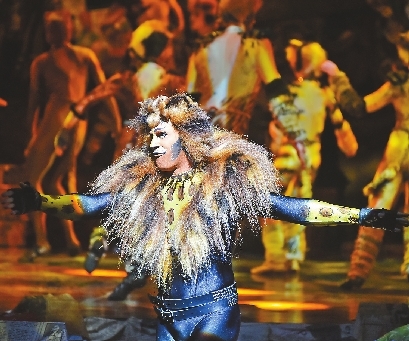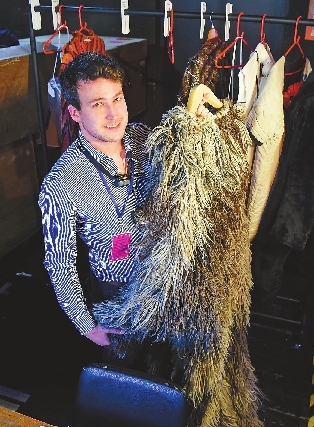 Cao Zhen
caozhen0806@126.com
THERE'S no apparent point to British musical "Cats," and since its 1981 debut, it has little in the way of modernization, but when it opened in Shenzhen last weekend, its energy, verve and choreographic vigor hadn't aged a bit.
The set at Nanshan Cultural and Sports Center's grand theater is impressive, with a big moon projected on to the back of the stage and large junk plastered all the way up the wings of the theater. "The junk props are larger than life because they were created based on cats' visual world," Jordan Goff, the musical's China tour stage manager, told the press in Shenzhen.
In the sung-through musical, feline dancers leap from the stage, prowl through the theater and sometimes perform their paws off along the aisles as if it were their playground, breaking down the barriers between stage and audience. "We spent a lot of time being trained to be physically feline. Cats' movements begin from the back. They express emotions through the back and you can tell whether it is relaxed, alerted or frightened," said John Brannoch, who plays Rum Tum Tugger, one of the many feline characters.
Composed by Andrew Lloyd Webber and based on "Old Possum's Book of Practical Cats" by T. S. Eliot, "Cats" tells the story of a tribe of cats called the Jellicles and the night they make what is known as "the Jellicle choice" and decide which cat will ascend to the Heaviside Layer and come back to a new life. Directed by Trevor Nunn and choreographed by Gillian Lynne, "Cats" first opened in London's West End in 1981 and then with the same creative team on Broadway in the United States in 1982. It won numerous awards, including Best Musical at both the Laurence Olivier Awards and the Tony Awards. The London production ran for 21 years and the Broadway production ran for 18 years, both setting new records.
"'Cats' changes all the time. Every new cast brings new thoughts, doing some improvisation and things develop," said Chrissie Cartwright, the current revival director. "All the performers are required to be 'in the cats' during rehearsal, not human beings pretending to be cats. They should really believe they are cats," she said.
Cartwright joined the crew of the musical in 1986 and she admitted that nowadays audience members are less able to concentrate on lengthy performances, so they made this revival version slightly shorter and tighter in structure.
Cartwright's favorite character is Grizabella, a has-been glamour cat who is now very old and only a shell of her former self. To gain the Jellicle cats' acceptance, Grizabella sings the song "Memory," a nostalgic remembrance of her glorious past and a declaration of her wish to start a new life.
"Everyone recognizes Grizabella in some way because everyone has a period of difficulty. It's really moving that she is accepted finally. For children, if there's one little touching thing they could take away with them after watching the show, it would be magical," said Cartwright.
Webber's music gives theatrical life to the individual cats and the show's stand-out song "Memory" gives a tough job to Joanna Ampil who plays Grizabella. The song was originally sung by Elaine Paige and later covered by more than 150 artists including Barbra Streisand.
"It's a challenge for me that lots of people have known the song and many famous and amazing artists have sung it. But it is not a standalone song and it has a story within the context, which gives you everything you need emotionally, so you need to play the character really well to be able to sing the song. We all have different backgrounds and life experiences, so I create my own story in the character," Ampil told Shenzhen Daily.
Manila-born Ampil has performed in several West End musicals, including "Miss Saigon," "Avenue Q" and "Les Misérables." At the Shenzhen opening of "Cats," Ampil showed off her lung power when singing "Memory" and had the audience cheering her high notes.
"Cats" has no leads and is all choruses and dances. Brannoch makes Rum Tum Tugger the coolest of urban cats. With leopard spots on his chest and a wild mane, Rum Tum Tugger is self-obsessed, loves the limelight and enjoys being seen as an individual by separating himself a little from the tribe. Webber has stated that the part of Rum Tum Tugger is intended to be a homage to Mick Jagger, and this homage is apparent in the way Rum Tum Tugger moves on stage with the choreography and the costume styling.
"Cats" runs in Shenzhen until April 21 at Nanshan Cultural and Sports Center and then tours to Xi'an, Nanjing, Ningbo, Shanghai, Hangzhou, Suzhou, Shijiazhuang, Chongqing, Guangzhou and Beijing. For more information, contact the box office: 400-185-8666 or juooo.com.