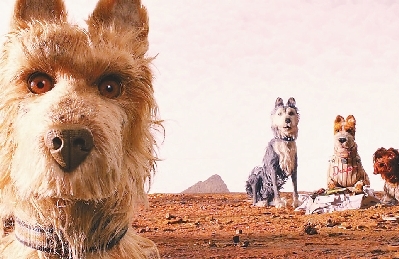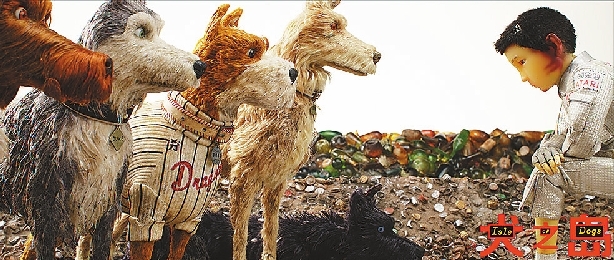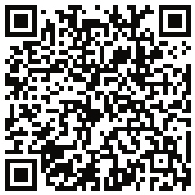 《犬之岛》
For Wes Anderson, the world is one big toy box.
Anderson has tried his hand at stop-motion animation before with the Roald Dahl adaptation "Fantastic Mr. Fox," but this new talking-animal film is more sophisticated* and ambitious. It's set in a near-future Japan, where Kobayashi (voiced by Kunichi Nomura, one of the film's co-writers), the corrupt* mayor of fictional city Megasaki, has taken cruel measures to stop the spread of canine* diseases, including the terrible "snout fever." He orders all Megasaki's dogs to be exiled* to an island. The place is basically a huge trashpile*.
Life there looks hopeless for its exiles until they get a visit from Kobayashi's brave 12-year-old Atari (Koyu Rankin), in search of his beloved, long-lost pet Spots. A band of dogs led by battle-scarred stray Chief (Bryan Cranston) help Atari on his mission*. They will explore* the scarier parts of the island, part industrial wasteland and part abandoned funfair, with fully functioning mechanized parts. Meanwhile, a pro-dog student group — including American visitor Tracy (Greta Gerwig) — are rising up against Kobayashi with the help of research scientist Yoko Ono (voiced by Yoko Ono).
Visually and thematically, "Isle of Dogs" combines contemporary Japanese pop culture with futurism.
The dogs' dialogue is performed in English by Western stars, including Bill Murray and Tilda Swinton, along with Jeff Goldblum as the gossip-loving Duke. Scarlett Johansson voices Nutmeg, a former show dog who's tougher than her silky fur suggests.
Shot at London's 3 Mills Studios and Berlin's Babelsberg, the film — which also includes some traditional hand-drawn cartooning — is a breakneck* succession of dazzlingly executed sight gags*. The character design is brilliant, too — although not all the dogs appear as individuals.
The production design is quite beautiful: rippling glittery seas, a line of elongated doggie shadows marching along a wall of garbage, and a multi-colored hideout* made of thrown away sake bottles.
(SD-Agencies)