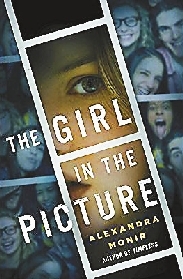 《照片里的女生》
The halls of Oyster Bay Preparatory School are rocked with scandal and tragedy* after senior soccer star Chace Porter, son of a U.S. Congressman, is found dead in the woods. A murder investigation* begins, and police narrow their suspects to Porter's closest friends.
At the top of the list are his beautiful, popular girlfriend Lana Rivera and the girl whose picture was found in the victim's pocket: Nicole Morgan, a brilliant nobody. No one seems to know why Rivera and Morgan, former roommates and friends, stopped talking months before Porter was found, or the reasons why he was always sneaking off somewhere.
Author Alexandra Monir constructs multiple backstories that piece together the events that Rivera and Morgan are struggling to remember but would rather forget. Rivera, the "girl everyone wants to be," has a frank internal monologue* that prevents her from coming across as a typical mean girl. Morgan wears her low self-esteem like a cloak, much like an eccentric* savant* would in a "Gossip Girl" high school setting.
The strongest pull for readers, though, will be solving the mystery, and although the actions of the police and the culprit* sometimes feel unrealistic, Monir effectively keeps readers guessing until nearly the end. This is a unique tale of teen friendship, romance and deadly secrets.
Monir is the author of the popular time-travel YA novel "Timeless" as well as its sequel "Timekeeper" and a romantic thriller "Suspicion."(SD-Agencies)