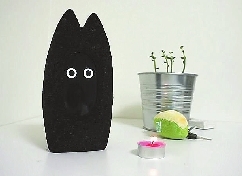 社交机器人因孤独而生
A robot that listens to you at home and shares your every move with your friends has been developed to help young people tackle loneliness.
Scientists behind the robot, named Fribo, claim it encourages its owner to text and call their friends to help them socialize*.
To do this, the robot senses when you open a door or turn on a light and then messages your group to let them know what you're up to.
According to scientists behind the project, from South Korean institutes Yonsei University and KAIST, Fribo operates by listening for "living noise," which is everything in your home that makes noise besides you. The robot doesn't record voices, meaning it is more private than gadgets like the Amazon Alexa or Google Home smart speakers.
In a research paper, scientists had four groups of young people test a prototype* for a month.
One participant said: "I can imagine what my friend is doing and I feel like we live in the same house, but in another room. It's like sharing daily life activities with friends."
Others reported contacting friends more often and said that having a Fribo changed their daily routine. "I usually wake up late in the morning, but when I began to notice my friends getting ready early, I started thinking about starting the day earlier with my friends."(SD-Agencies)