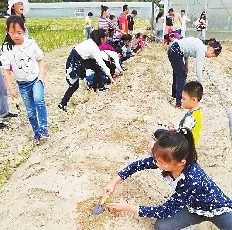 自然农法教育进校园
To teach students more about Mother Nature's relationship with human society, Jingpeng Elementary School and the Agriculture Promotion Association jointly brought natural farming methods to the classrooms, enabling kid urbanites to gain farming knowledge and experience it first-hand.
Students are required to grow their own vegetables, keep logs and look for the answers to questions like "Why do I grow vegetables?" and "How can I make full use of my living space to grow vegetables?"
The classroom is very lively and students are very engaged during the class. Before the class, teacher Zou Shunrong brought plants into the classroom to rouse students' curiosity. She then showed students an unfamiliar plant and prompted them to guess the name of it. Students all raised their hands to give their best guesses.
Afterwards, Zou brought up the topic of soil contamination to encourage students to lead healthy lifestyles and experience the fun and messy side of nature.
Before the class ended, students participated in a special activity called "I am a little farmer," in which they had a hands-on experience with planting vegetables based on what they had learned from Zou.
On March 25, nearly 40 third to sixth graders at the school and their parents were invited to an ecological and technological park in Longgang District to learn more about planting, the role of science and technology in agricultural production and to try planting crops by themselves.
According to Wen Chenghong, director of the teaching and guidance department of the school, the "natural farming methods entering campus" project aims to pass on the basics of natural farming techniques to elementary and middle school students and encourage them to get in touch with nature and guide them into loving and exploring it.
(Yang Mei)