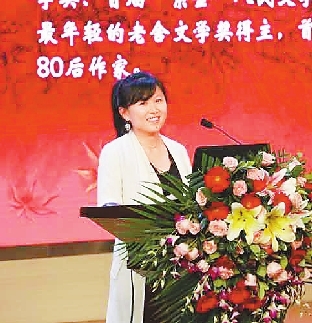 老舍文学奖最年轻得住回母校深大附中分享文学之路
Wen Zhen, the youngest Lao She Literary Award winner in history, visited her alma mater Shenzhen University Normal College Middle School and shared her story to over 600 students and teachers.
Wen studied at the school from 1996 to 1999 and later won the Lao She Literary Award in 2014 with her short story "Love Story on Anxiang Road," becoming the youngest winner of the award as well as the first post-80s author to win one of the four big Chinese literary awards.
Wen talked about the impressive classes given and the concern shown towards students' development by teachers at the middle school.She also shared about her experiences while studying with the junior students and encouraged them to combine work with fun and rest to realize an effective learning outcome.
"Study effectively in class and try to read literary works that interest you as much as possible," said Wen.
Failing to get admitted into her dream college, the Department of Chinese Language and Literature of Fudan University, Wen concluded that it is a rare and invaluable chance for us to grow when we encounter setbacks at a young age.
According to the school, Wen was invited back to the school to share her story about her studies and life so as to encourage the students to work hard to create their own glory. The school will continue to provide a platform for the students to realize a comprehensive and rich development.
(Chen Xiaochun)