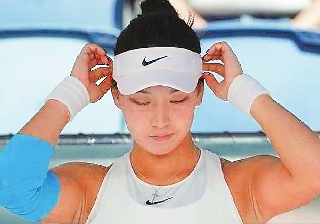 澳网小花王欣瑜在母校园岭小学掀起网球风
After being named an ambassador of Meilin Middle School, rising star and Australian Open's Asia-Pacific wild-card playoff winner Wang Xinyu returned to her alma mater Yuanling Elementary School recently to visit her prior teachers and correspond with fellow schoolmates.
Wang started playing tennis when she was admitted to the school, so for her the school is where her tennis dreams began. On the day of the visit, Wang received a tailor-made print portrait from headmaster Mei Yanqi which was made by the school's printmaking club.
After that, Wang gave an inspiring speech to the graduating sixth graders in which she said, "No matter what difficulties you meet or what others may think of you, you should be yourself and never give up."
Wang left a deep impression on her teachers, many of whom believed she will succeed in tennis when she was at school. Two of her head teachers even asked her for her autograph.
"I was serious when asking her for her autograph because I saw a willpower in her that I didn't see in her peers," said Li Hongbo, Wang's headmaster in sixth grade, adding that through Wang's school-assigned journal entries, he learned about the intensive training she undertook and the injuries she endured on her way to becoming an accomplished tennis player.
Yuanling Elementary School has always attached great importance to student's athletic development. Football has also become a hit in the school with several wins by the school's football team. Thanks to Wang's success, the school is expected to further develop its tennis program so as to offer an ever-more holistic and quality education.
(Yang Mei)