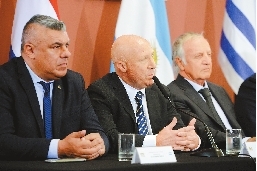 ARGENTINA, Uruguay and Paraguay will use 12 venues for the 2030 World Cup if they win the right to co-host the centenary edition of football's biggest tournament, officials said on Monday.
Eight of the stadiums would be in Argentina with another two each in Uruguay and Paraguay, the Argentine Football Association said, without revealing names of the cities or stadiums.
The announcement followed a meeting in Buenos Aires that included top football officials from Argentina and Uruguay. A Paraguayan delegation did not attend after its flight from Asuncion was delayed because of bad weather.
Argentina's Secretary of Sport Carlos Mac Allister said the country's five-time Ballon d'Or winner Lionel Messi agreed to back the joint candidacy during a recent meeting in Spain.
"At all times we found [Messi] willing to help us spread the word about the possibility that the three countries organize the World Cup," Mac Allister said.
"It's very important for us to feel that we have the support of players and that it is completely unattached from any political connotation."
Uruguayan officials said Messi's Barcelona teammate Luis Suarez also pledged to support the bid.
The 2030 tournament will take place 100 years after Uruguay won the inaugural World Cup as hosts.
Argentina and Uruguay, both two-time World Cup winners, announced their plans for a joint candidacy early last year before adding Paraguay to the bid in September.
The tournament has been staged once before in both Argentina and Uruguay while Paraguay is aiming to host it for the first time.
Bidding for the 2030 event is not due to begin until 2022 though the South American nations have emerged as an early front-runner.
(Xinhua)