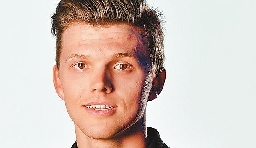 THE world of cycling Monday mourned Michael Goolaerts after the Belgian died of heart failure at the age of 23 during the gruelling Paris-Roubaix one-day classic race in France.
Goolaerts was found unconscious and not breathing at the side of the road Sunday, after racing along one of the course's famous cobbled sections.
Doctors were unable to revive him at the scene and he was flown to a hospital in the northern city of Lille where he died of "cardiac arrest" surrounded by his family, his Veranda's Willems-Crelan team said.
A video on YouTube showed Goolaerts failing to negotiate a curve and shooting into a grassy bank at high speed.
It was not immediately clear if he suffered the heart attack before crashing. No other rider appeared to be involved.
But Cambrai prosecutor Remi Schwartz said that early investigation results indicate that Goolaerts might have fallen off his bike because of a cardiac episode, and that it was not the crash that led to his death.
"But at this stage we don't have any absolute certainty," he said. "There is no obvious explanation, nor an obvious traumatism as the cause (of his death)."
The incident happened at around the 100-kilometer mark of the 257-km race.
"It is with unimaginable sadness that we have to communicate the passing of our rider and friend Michael Goolaerts," his team said on Twitter.
"He died of cardiac arrest, all medical assistance was to no avail."
His loss was felt especially keenly in Belgium, where the Flemish VRT broadcaster said cycling was "in mourning."
David Lappartient, president of the sport's governing body the UCI, said on Twitter: "I would like to extend my deepest condolences to the family, team and friends of Michael Goolaerts, who left us too early today. We share their immense sadness."
The organizers of the Tour de France, who are also in charge of the Paris-Roubaix, said official race doctors had managed to reach Goolaerts within "two to three minutes."
"They tried to bring him back to life. In this type of race they administer the first treatment and then they call the local emergency services," race organizer Pierre-Yves Thouault said.
Race winner three-time world champion Peter Sagan, paid tribute to Goolaerts on Twitter, writing: "All the thoughts and prayers of the @BORAhansgrohe team and myself are with Michael Goolaerts. Such sad news..."
Paris-Roubaix is known as the "Hell of the North" because a large section of the course is made up of uneven cobbles and the riders have to contend with thick mud in some parts.
Goolaerts became a professional rider in 2014 at 20, and had taken part in 20 days of racing in 2018, including starting the Tour of Flanders earlier this month, although he did not finish that race. He had yet to win any major honors in the sport.
His death echoed that of another young Belgian rider, 22-year-old Daan Myngheer, who died in hospital two days after suffering a heart attack during the Criterium International race in Corsica in 2016. In 2011, Belgium's Wouter Weylandt was killed in a crash during the Giro d'Italia.  (SD-Agencies)