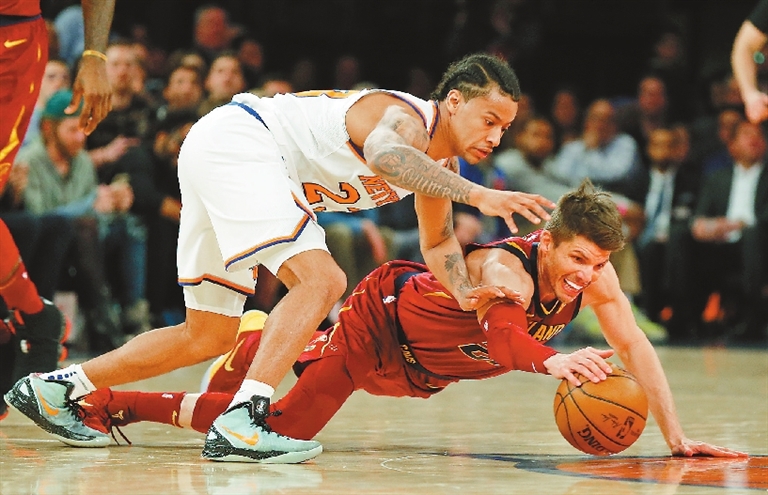 THIS wasn't the only championship the Cavaliers had in mind when the season started.
But now that it's about over, and given the craziness that's gone on, Cleveland will take another Central Division championship.
LeBron James finished with 26 points and 11 assists in the Cavs' 123-109 win over the New York Knicks on Monday, clinching their seventh Central title.
James is the first player in NBA history to be on a team that won its division in 10 consecutive years, a streak that dates to his last two seasons with the Cavs before he joined the Miami Heat in 2010.
"Throughout a long season if you're able to accomplish feats no matter what's going on, you should always try to appreciate it, try to take time," James said. "I've been one, I'm kind of like been a hypocrite of that because I'm always moving and trying to figure how we can be better then next day or whatever the case (might) be. So, it's always hard for me to be like, 'OK, another division crown.' Even after all that's gone on with our team and our ballclub this year, but it's a pretty cool thing."
This division crown could have real implications for the playoffs.
Cleveland trails Philadelphia by a half game for third in the East. The Sixers, who have won 14 in a row, played at the Atlanta Hawks yesterday U.S. time and will finish the season at home against the Milwaukee Bucks today.
If the Sixers won out, they get the third seed and will play the sixth seed (Miami, Milwaukee, and Washington all still had a shot at No. 6 entering play Monday). In that scenario, the Cavs would host the No. 5 Indiana Pacers this weekend.
But if the Sixers were to lose on of their last two and the Cavs beat the Knicks Wednesday (or, let's suppose, somehow the Sixers lose both of their remaining games), the Cavs would get the third seed because they won the Central and the Sixers didn't win the Atlantic Division (Boston did).
The Cavs won their 50th game for the fourth consecutive season, coinciding with the return to the franchise of James.
"It's very special," Cavs coach Tyronn Lue said. "I think anytime you can win your division and have home court in the first round I think it's a good accomplishment, especially with everything we've been through this year. The guys just stuck with it and now we're in position where we can tie our win total from last year." This was Cleveland's ninth straight win at Madison Square Garden and its 11th win in the last 13 games.
Kevin Love was the Cavs' leading scorer Monday with 28 points on six 3-pointers (13 attempts). Since March 19, Love is shooting 32-of-70 from 3-point range.
"I just felt like tonight they just gave me a little too much space, so I was just shooting what was there for me," Love said. "I felt like a couple others could've dropped but overall they were mostly good shots," he said.
(SD-Agencies)