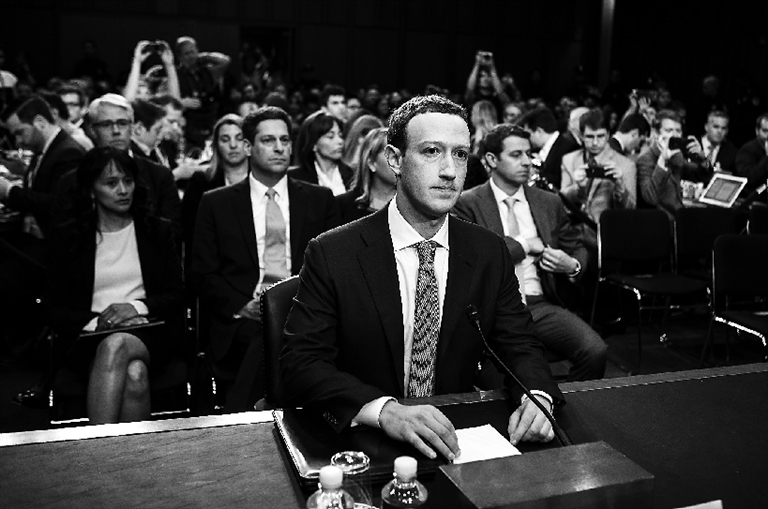 FACEBOOK chief Mark Zuckerberg accepted personal responsibility Tuesday for the leak of data on tens of millions of its users, while warning of an "arms race" against Russian disinformation during a high-stakes hearing with U.S. lawmakers.
In his first formal congressional appearance, the Facebook founder and chief executive answered questions for nearly five hours as he sought to quell the storm over privacy and security lapses at the social media giant that have angered lawmakers and the network's 2 billion users.
Under mounting pressure over the hijacking of its user data by a British political consultant, Zuckerberg reiterated his apology for the historic breach, before being grilled over how Facebook collects and protects people's personal information.
"It was my mistake, and I'm sorry," Zuckerberg said about the improper sharing of 87 million people's information by Cambridge Analytica, a firm working for Donald Trump during the 2016 presidential campaign.
"I started Facebook, I run it and I'm responsible for what happens here."
He added that Facebook fell short in protecting the platform, noting: "That goes for fake news, foreign interference in elections and hate speech, as well as developers and data privacy."
The 33-year-old CEO spoke of a constant struggle to guard against Russian manipulation of the Facebook platform to influence elections in the U.S. and elsewhere.
"There are people in Russia whose job it is to try to exploit our systems and other Internet systems and other systems as well," he said.
"So this is an arms race. They're going to keep getting better and we need to invest in getting better at this too."
Zuckerberg has previously acknowledged the social network failed to do enough to prevent the spread of disinformation during the last U.S. presidential race.
The Senate hearing, ahead of another appearance in the House yesterday U.S. time, featured several tense and some friendly exchanges on Facebook's security, hate speech and other topics.
Zuckerberg said he was open to regulation, but cautioned against complex rules that might impact emerging social media firms.
Zuckerberg also revealed that Facebook is cooperating with the U.S. special prosecutor investigating Russian interference in the 2016 vote.
Zuckerberg said he had personally not been contacted, and that he was not specifically aware of any subpoena of Facebook data.
But the show of contrition fell short for several lawmakers.
"We've seen the apology tours before," Senator Richard Blumenthal of Connecticut told Zuckerberg.
"And so, my reservation about your testimony today is that I don't see how you can change your business model unless there are specific rules of the road."
Dozens of protesters gathered outside Congress before the hearing wearing Zuckerberg masks and #DeleteFacebook T-shirts.
Inside the jammed hearing room, activists from the Code Pink group wore oversized glasses with the words "STOP SPYING" written on the lenses, and waved signs that read "Stop corporate lying."
Zuckerberg also said the company believed in an ad-supported business model, but appeared to leave open the possibility of a paid version.
"There will always be a version of Facebook that is free," Zuckerberg told the hearing.
(SD-Agencies)