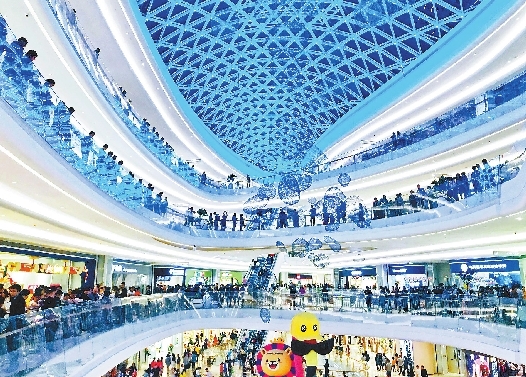 AFTER 40 years of development, Bao'an has gradually become a highland for high-end and intelligent manufacturing, innovative enterprises and globally-influential talent.
Now, a modern industrial cluster is taking shape in Bao'an, with strategic emerging industries positioned at the forefront and driven by the IT industry, supported by the pillars of the equipment manufacturing and other traditionally-advantageous industries, and upheld by the high-end services industry.
At present, the district ranks first in Shenzhen in the number of large-scale companies with six industrial enterprises each contributing an output of more than 10 billion yuan (US$1.47 billion), 14 contributing between 50 and 100 billion yuan, 96 contributing between 10 and 50 billion yuan, and 2,869 enterprises exceeding the established output-contribution scale.
Bao'an's roster also boasts 70 Fortune 500 enterprises, 36 listed companies, 146 firms listed on the New Third Board and more than 200 companies preparing for listings. There are also 3,030 State-level high-tech enterprises housed in Bao'an, the most of any district in Guangdong Province.
In 2017, the district's gross domestic product (GDP) was 344.8 billion yuan, ranking it the fifth among the top 10 districts in terms of GDP in Guangdong Province.
Supportive policies
To further optimize and enhance enterprise growth, the district government rolled out a preferential "1+5+6" policy system, offering a special fund of 1.2 billion yuan annually and an industry fund of 2 billion yuan annually.
The Bao'an government also promises to prioritize the development of land for the use of advanced manufacturing, expand the development potential for manufacturers, encourage enterprises to increase investment in technology upgrades, bolster financial services support, boost support for companies conducting scientific and technological research and development, improve the protection of intellectual property rights, increase the supply of talent housing, improve public services and the rule of law, and create a first-class government services environment.
The district government has also released five supporting documents outlining updates in industrial management, the selection of key industries, the implementation of major industrial projects, and the increase of capital and expansion of key enterprises, as well as six supporting policies regarding talents selection, innovation, housing, cultural property, finance and industrial funds.
Smart services
The government has carried out a campaign to improve its capabilities in service of the "five types of top 100 enterprises" in the district, highlighting areas like filing taxes, exporting and innovation.
Moreover, the "Intelligent Bao'an 1+4 Application System" is now fully established, and the big data resource center and four smart platforms — smart government administration, smart management, smart service, and smart industry — have been launched one after another.
The "1+10+12" control and command system has also gone into operation, and the smart Bao'an management and control center (as well as subdistrict-level smart control centers and sub-centers for safety surveillance, urban management, health and family planning, rentals, transportation, and public security centers), has been built and put into use.
The "two halls and two centers" government services platform and the "Bao'an Tong" government service app have also gone online.
Service reforms
To boost the efficiency of government services, the district government has been pushing reforms forward, including an online service platform employing the "O2O" concept, building a user-friendly interface.
The district has achieved 100-percent online functionality for application and approval for administrative examination services (called "two 100 percent"). The "one door, one window, one network, and one number" examination and approval services are provided around the clock, leading the country in terms of government administrative service efficiency.
Aiming to build industrial clusters of at least 100 billion yuan each under the "Made in China 2025" national plan, the district has been supporting the technological upgrading and expansion of enterprises, facilitated by deepened cooperation with Germany in the district.
This encourages companies vigorously develop future industries in areas such as the airport economy, the exhibition economy, the marine economy and so on, and improve upon the modern service industry support system.(SD News)