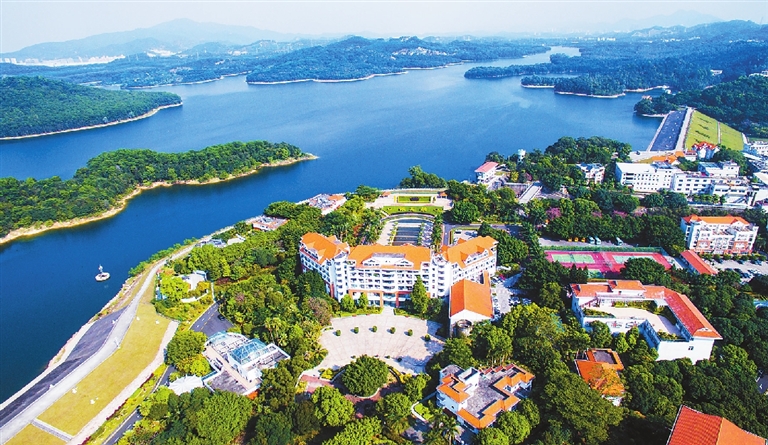 BAO'AN District has undertaken efforts to promote its innovation-driven industrial upgrading since 2012 and has built a number of science and technology parks.
There were 63 science and technology parks in Bao'an District as of the end of last year, covering a total area of 6.13 million square meters. Currently, the district is home to seven State-level incubators and 20 city-level incubators.
Among the 63 science and technology parks, the majority contain a comprehensive offering of supporting services. More than two-thirds of the city-level incubators are certifiably comprehensive, and 97 percent of the district-level incubators are as well.
The Taohuayuan Science and Technology Innovation Park, which is a government-funded enterprise-like incubator, opened in 2002 and was accredited as a State-level high-tech startup service center by the Ministry of Science and Technology in 2006.
The park works as a one-stop center for supporting research and development, realizing scientific and technological achievements, business incubation and personnel training. It consists of one main park and four branch parks.
The Shiyan Lake branch park, built in 2000, is a city-level incubator for high-tech startups. The park is invested in and operated by a Shenzhen-based tech company called Founder. IT is the park's leading industry, and the park has developed partnerships with Shenzhen University and Peking University Shenzhen Graduate School to jointly build scientific research labs.
The Gaoxinqi branch park, located in Xin'an Subdistrict in Bao'an, is dedicated to solving financial problems for enterprises using its incubation funds and social capitals. The Feiyang branch park, which is a new-material park, can solve most of the procurement and sales problems for new-material enterprises, as well as provide financial services to help the enterprises raise funds.
The Taihua Wutongdao Science and Technology Innovation Park, located in Hangcheng Subdistrict, was accredited as a city-level incubator in 2015. The park was built following the design principles of a Sponge City and green construction, while 77.82 percent of the park is covered by greenbelts.(Zhang Yang)