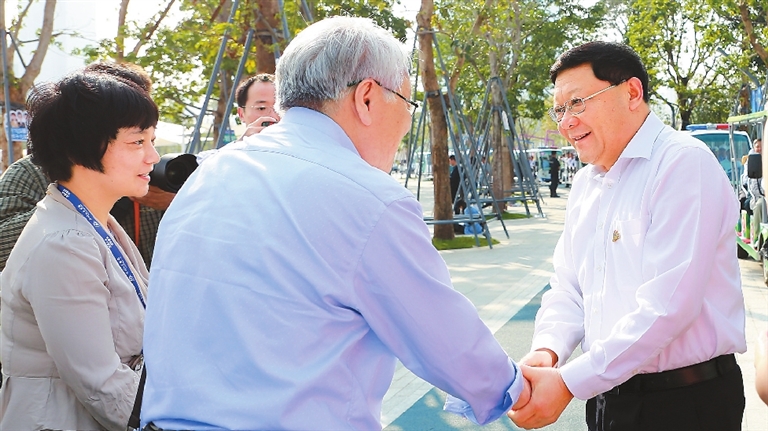 FROM the "Academicians in Bao'an" project to build an international academician village, and the "1,000 Project" which will provide 1,000 low-cost apartments to 1,000 urgently-needed professionals to the "flexible talents introduction" plan for luring overseas professionals, Bao'an has stepped up its efforts to adopt new measures and policies for attracting foreign talents in recent years.
To date, the district has cooperated with 14 academicians, attracted nine certified experts through the "Thousands of Talents" scheme, 95 high-level overseas talents for the "Peacock Plan," over 900 professional talents at the municipal level, 1,850 talents at the district level and more than 700 doctorate degree holders.
Overall, Bao'an has six innovative research teams under the "Peacock Plan" and 22 innovative research teams at the district level. The total number of skilled personnel in the district has surpassed 1 million.
Talent pyramid
Bao'an District has a total of 88 talent policies, attracting and developing talents in a specific manner. In a bid to create a talent pyramid, Bao'an has formulated a unique talent classification mechanism.
On top of the pyramid are talents who have been identified by Shenzhen Municipality as high-level overseas professional. Talents in this tier include State-level leading talents, local leading talents, reserve talents, and Class A, B and C talents of the "Peacock Plan."
Occupying the pyramid's "body" are high-level talents of Bao'an District. The district has revised the identification standards to put forward the standard for identifying talents in industry, education, medicine and health, and other general fields.
At the "foundation" of the pyramid are mid-level talents such as newly-introduced graduates, craftsmen and makers.
Subsidies and allowances
Bao'an will provide high-level talents identified by Shenzhen Municipality with matching subsidies from both the district and the city. For example, if a high-level talent relocates to Bao'an, he will receive a total of 12 million yuan (US$1.91 million), 6 million yuan from the city and 6 million from Bao'an District.
Newly identified high-level talents of Bao'an District will receive a living allowance of 200,000 yuan. Graduates from elite schools will receive a one-off award. High-level talents working in the field of education and medicine and health may also receive an allowance as high as 3 million yuan.
The district also focuses on introducing "Phoenix Teams," which are in line with the industrial development of Bao'an and enjoy great market potential. After being assessed and identified, the teams will receive a one-off grant of 3 million yuan.
Top talents and innovation teams of the "Thousand Talents Program" will receive a support subsidy of 10 million yuan. Talents in the "Thousand Talents Program," "High Level Talents Special Support Plan" and Guangdong leading talents will also receive a startup subsidy of 1 million yuan. Guangdong innovation and R&D teams and "Peacock Teams" will receive a one-off support subsidy of as high as 8 million yuan.
Incentives for start-ups
Bao'an has formulated a package of measures to encourage talents to innovate and start businesses in the district. Such measures include providing subsidies for business launch, for office rent, other forms of financial support and guidance on entrepreneurship.
Specifically, the government provides a one-off subsidy to incubated technological enterprises founded by high-level talents ranging from 100,000 yuan to 300,000 yuan.
High-level entrepreneurship or their products that are certified as feasible will receive a subsidy of up to 5 million yuan and a monthly rental subsidy.
Eligible high-level talents in Bao'an District can either choose to enjoy a monthly rental subsidy of 5,000 yuan for as long as 10 years or to live in a rent-free apartment with floor space of around 90 square meters for as long as 10 years. Eligible high-level talents in education and health field are entitled to an apartment with a floorage of 90 to 150 square meters for 10 years. Workers who have worked on full-time basis for 10 years of more and made outstanding contributions can enjoy life-long rent-free apartments.
Academician work stations
By the end of 2017, five companies in Bao'an District were rated among the first batch of city-level academicians (experts) work stations, which was another breakthrough Bao'an made in the "Technological talents+" strategy.
At present, there are 12 academicians maintaining in-depth cooperation with the district.
Academicians in the medical field are making a name for Bao'an as a medically-ambitious district. A medical team led by He Lin, an academician from the Chinese Academy of Science, joined a study inaugurated by Bao'an Maternal and Child Health Hospital in 2014. A seven-member team led by Fu Xiaobing, academician of the Chinese Academy of Engineering and expert in trauma, tissue repair and regenerative medicine, is working with Bao'an People's Hospital under a five-year term.
Shi Xuemin, academician from the Chinese Academy of Engineering, has set up a work station at the Bao'an TCM Hospital. The work station has given more than 30,000 acupuncture sessions to patients using a new form of service within just over a year since its establishment.  (Chen Xiaochun, Yang Mei)