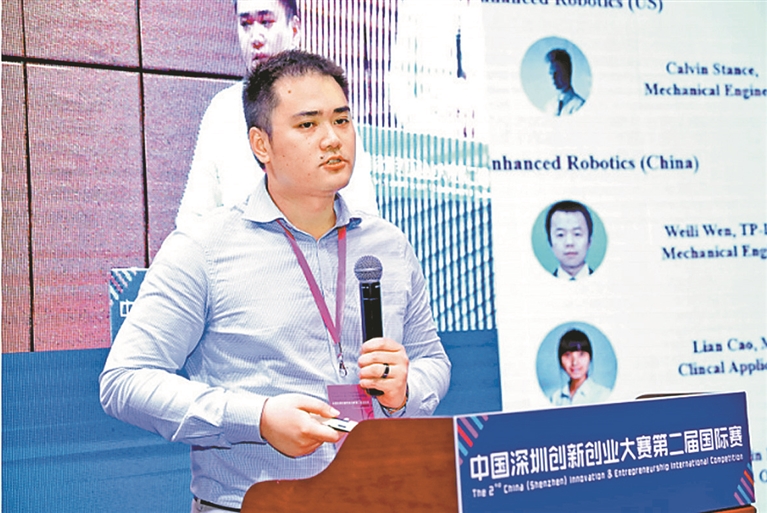 A PROJECT featuring a wearable robot that can help elderly people walk and rehab stood out among 16 innovative projects competing in the advanced manufacturing final of the Second China (Shenzhen) Innovation & Entrepreneurship International Competition held in Bao'an District on Tuesday.
The project from Silicon Valley of the United States won the first prize after rounds of competition with innovators and innovation teams from Canada, Australia, the United States, the United Kingdom, Japan, Israel and Sweden at the Wanyue Grand Skyline Hotel Shenzhen.
The competition was divided into two parts: a six-minute live road show and a nine-minute oral defense.
"Advanced Imaging for Minimally Invasive Procedures," a project from the Toronto preliminary competition, and "Hello Phototherapy" from the Stockholm preliminary contest shared the second prize. "Hello Phototherapy" focused on the treatment of jaundice in newborns. It provides an affordable and environmentally friendly solution to families in need.
"It costs only 600 yuan (US$95.61) to rent the equipment to take home and treat a newborn with jaundice, and then it can be used by other people after you return it," said Huang Ting, an audience member and the person in charge of the Huiju Innovation Park. She said that she was very impressed by the product as it can be shared by many users, and "the shared economy is the new trend in development." Huang said she is interested in introducing the project to her innovation park.
"Mobile CoBots and Shared-Autonomy System" from London, "Driverless and Smart Cities" from Boston and a project focusing on smart chips from Japan won the third prize.
The audience was impressed by all of the projects presented in the final.
A Sydney-based advanced manufacturing firm, Tekuma PTY LTD, showcased its remote controller that can be manipulated with just one hand, which frees the operator's other hand to focus on capturing great photo with the camera attached to the drone.
According to Michael Griffin and his teammate Annette McClelland, the remote controller is simple to use, and allows drone operators to capture the images they want without having to look at the remote controller.
An innovator based in Japan, Jin Xiaohai, introduced a smart caring robot at the final. According to Jin, the research team is comprised of doctoral degree holders in robotics and is mainly focused on developing smart robots.
(SD News)