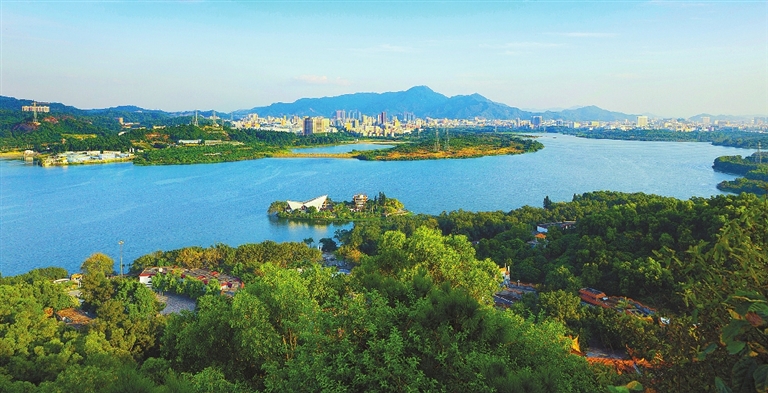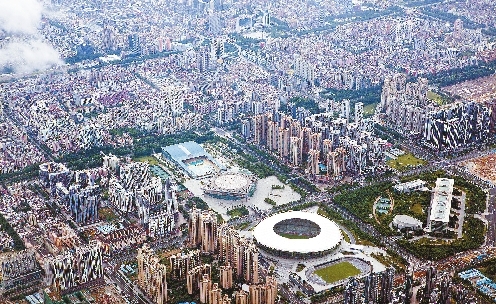 LOCATED in the heartland of the Guangdong-Hong Kong-Macao Greater Bay Area, Bao'an District is a golden corridor that connects neighbors Hong Kong, Macao and other Guangdong cities.
The district not only possesses a geographical advantage located at the center of the Pearl River Delta, but it is also a key location along the 21st Century Maritime Silk Road for its status as one of China's most open and dynamic economic powerhouses.
In today's world, bay areas around the world like the Greater Bay Area form a significant driving force in boosting the global economy.
In 2017, the Chinese Government named the Guangdong-Hong Kong-Macao Greater Bay Area as an important part of the national development strategy. The city clusters in this area are various, including Hong Kong and Macao SARs, first-tier mainland cities Guangzhou and Shenzhen, and key national development zones Qianhai, Nansha and Hengqin, which are also free trade pilot zones.
With a population of more than 66 million living within the same 56,000 square meters, the Guangdong-Hong Kong-Macao Greater Bay Area turned out a GDP of 10 trillion yuan (US$1.58 trillion) in 2017, ranking second among the four prominent bay areas of the world, second only to the New York Bay Area.
Bao'an, the center of the Guangdong-Hong Kong-Macao Greater Bay Area, is the largest administrative district in Shenzhen both in terms of population and area. It covers a territory of 397 square kilometers and a marine area of 220 square kilometers. The average age of its more than 5.4 million permanent residents is 32.5 years. This young, vibrant coastal town has witnessed rapid economic growth in recent years, with annual GDP growth averaging more than 9 percent. Its GDP surpassed 344.8 billion yuan in 2017 and total exports surpassed 254.3 billion yuan. It ranks No. 10 among all administrative districts in China in terms of economic turnover.
Bao'an is an important high-end and intelligent manufacturing base in China, with complete supply chains and a strong capacity for innovation. As home to China's first issuer of stock, the first joint-stock company, the first "three-plus-one" export-oriented enterprise and the first rural shareholding company, Bao'an can rightly be considered the cradle of the country's reform and opening up.
More than 30 years have passed since the Shenzhen Special Economic Zone was established. With a modern industry structure highlighted by electronics, information technology, mechanics and intelligent equipment manufacturing, the newest inventions can quickly materialize in Bao'an both quickly and with the assurance of high standards. This kind of quick and seamless production cannot be realized in any other single location, not even in the United States or Europe.
There are more than 700,000 businesses registered in Bao'an, of which 3,030 are certified national high-tech enterprises, the highest concentration among all of Shenzhen's districts. In 2017, some 12 billion yuan was invested into R&D in Bao'an, ranking it ninth in China in terms of innovation capability. About 17,200 patents were authorized in Bao'an, the second-highest among all Shenzhen districts. Bao'an manufactured 415.5 billion yuan's worth of high-tech products, accounting for 62.5 percent of total industrial output by companies with revenue of over 20 million yuan.
Of every 100 drones manufactured globally, 21 are from Bao'an. One-fifth of the world's computers are fitted with dongles made in Bao'an. Four out of 10 intelligent wearable products in China are made in Bao'an, where LED industry output ranks third in the world.
Such high-end manufacturers from Bao'an like Huaxun Fangzhou, APT Satellite Holdings Ltd., Linak and Han's Laser are becoming increasingly influential worldwide.
With a beautiful natural environment and efficient transportation infrastructure, Bao'an is a modern and multicultural coastal urban place where people can live comfortably while realizing their ambitions. It's also a rare privilege for a city to have both mountains and a 45-kilometer coastline.
With 173 parks and 411 kilometers of public greenways, 48 percent of Bao'an is dominated by greenery, and more than 90 percent of the time, the livable city has unpolluted air.
Bao'an is also a transportation hub of the Guangdong-Hong Kong-Macao Greater Bay Area, connecting with the world by air, land and sea.
The Bao'an International Airport is the fourth-biggest in China, with convenient ferry and bus services to and from Hong Kong International Airport, facilitating smooth flight transfers. From there, passengers can fly to more than 130 cities in China and abroad.
As for maritime movement, the annual output at the Dachan Bay seaport is 1.26 million TEUs, ranking 24th in the world. Five expressways and eight Metro lines run through Bao'an.
In the future, with facilities linking Bao'an's airport with high-speed railway, air passengers from around the world will be able to reach major cities in the Guangdong-Hong Kong-Macao Greater Bay Area within one hour after they land in Shenzhen.
The world's biggest international convention and exhibition center, located in the Bao'an airport area, will see its first phase completed and put into use by the end of this year.
The adjacent Shenzhen International Conference Center is under construction. Bao'an is poised to become a window to international exchange and cooperation in the Guangdong-Hong Kong-Macao Greater Bay Area.
(Debra Li)