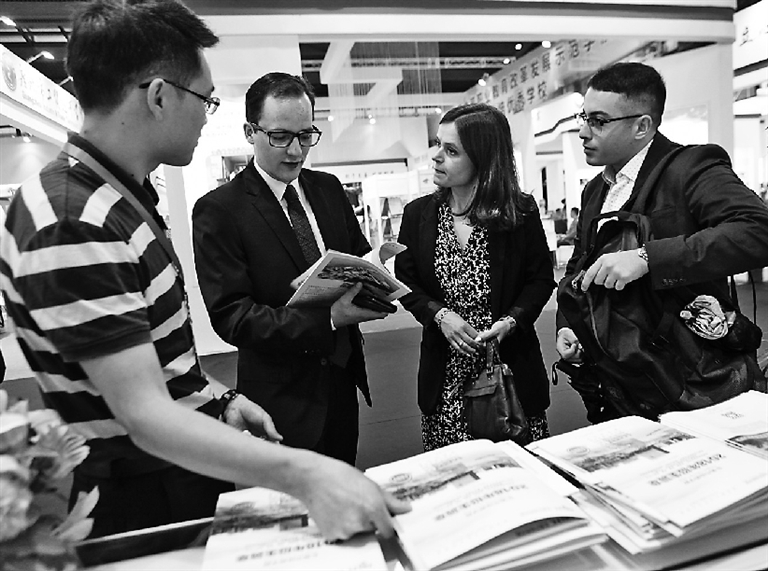 Zhang Qian
zhqcindy@163.com
THE two-day Conference on International Exchange of Professionals (CIEP) rolled up its curtain yesterday at the Shenzhen Convention and Exhibition Center, highlighting the contributions to the nation by foreign experts over the past four decades.
The conference opened Saturday featuring a diverse array of events, including high-end forums, job fairs, exhibitions and international innovation and entrepreneurship contests.
The CIEP has attracted massive attention from experts, scholars and local and global jobseekers. Nearly 100,000 people attended the conference over the past two days.
Former German President Christian Wulff recently sent a letter to the organizer to congratulate them on the CIEP's successful opening. He pointed out that such a major event could certainly further China's exchange of talents, technologies and trade with other areas and countries.
In his letter, Wulff addressed that Germany and China have been maintaining active exchange and communication on professional talents in recent years, which has played a vital role in deepening the cooperation between the two countries.
This year, the CIEP set up the Exhibition of Achievements of Foreign Talents and Intellects Introduction to celebrate the 40th anniversary of China's reform and opening up.
A total of 49 projects involving the contributions of foreign experts were selected from across the nation and showcased at the exhibition in Hall 1 of the convention and exhibition center in Futian CBD.
A project from Shenzhen-based BGI, on the research and production of a gene sequencer, was among the exhibited projects and represented the city's efforts in introducing top-notch foreign talents.
In addition, this year's CIEP also selected the 40 Most Influential Foreign Experts from the 40 Years of China's Reform and Opening Up to acknowledge their contributions in many fields, such as science and technology, agriculture, the arts, business and academics.
Lee Yuan Xiang, an expert in economics originally from Singapore, was among the 40 most influential foreign experts. He currently is the deputy CEO of Ping An Insurance Group, headquartered in Shenzhen.
Lee has been actively involved in the reform and development of the insurance and health-care sectors since moving to China in 2000, bringing along and adapting the advanced insurance systems from overseas to China's markets.
The other experts acknowledged included Henry Lee, an Asian-American forensic scientist, Professor Isabel Crook, a Canadian linguist who previously taught at Beijing Foreign Studies University, and Nikolay Dushin, an ophthalmologist from Russia.
Most of the experts are also recipients of the Certificate of Friendship award by the State Administration of Foreign Experts Affairs (SAFEA).
The CIEP was founded by the SAFEA in 2001 with the approval of the State Council. It is China's only conference oriented toward foreign expert organizations, training institutions and professionals.
The CIEP has been hosted by SAFEA and the Shenzhen Municipal Government in Shenzhen since 2007.