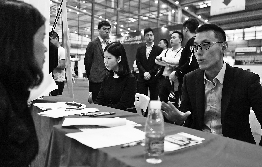 Zhang Yu
JeniZhang13@163.com
A SPECIAL job fair, aimed at recruiting foreign talents, was held at the Shenzhen Convention and Exhibition Center on Saturday. The job fair was a parallel event of the 16th Conference on International Exchange of Professionals, which was held over the weekend.
Grace Chung, a Korean-American from the United States, was one of the foreign jobseekers at the fair. "I'm interested in finding international trade positions in China," said Chung, who is currently teaching and is looking to get back into the business world.
According to her, a lot of the jobs for foreigners were geared toward English teaching positions. "But there are a lot of opportunities here, so if you really do a little research it's possible to find a job," she said.
Attracted by China's thriving economy, Diego Garcia is also looking for a job here. Garcia is from Spain and is currently studying Chinese in Guangzhou. He had obtained a master's degree in electrical engineering before coming to China.
"Overall, I think the job fair is very well organized," he said. However, he thought the fair for foreigners was a bit too small.
"I expected it to be bigger, like one whole hall for foreigners. For me this is very small. I think they can work on bringing more companies that are looking for foreigners or aiming at foreigners," said Garcia.
According to Liu Yunlong, a consultant from human resources service provider HelloCareer, more foreigners were interested in positions related to sales and marketing at the fair, accounting for more than 60 percent.
In addition to the job fair for foreigners, a fair for returned overseas students was held concurrently in another hall at the convention and exhibition center.
At the scene, famous enterprises, such as Tencent, Mindray and Evergrande, were still the most sought after, as long lines could be seen in front of their booths.
Among the overseas returnees, most of the jobseekers had studied at universities in the U.S., the U.K., Australia or Hong Kong.
"I think the job fair provides a very convenient platform for graduates like me, as different kinds of companies are gathered together," said Li Rui, a student from Hong Kong Baptist University.