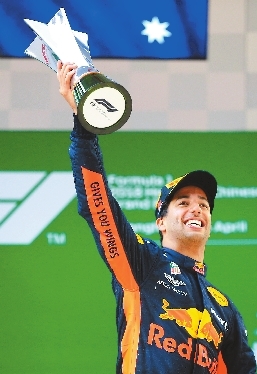 RED Bull's Daniel Ricciardo took a sensational victory in the Chinese Grand Prix yesterday as a chaotic final 20 laps threw the championship wide open.
Ricciardo drove beautifully to pass five cars after Red Bull chose to pit for fresh tires in a safety car period.
Teammate Max Verstappen did the same — but threw away his chances with two errors caused by over-optimistic driving.
Lewis Hamilton finished a frustrated fifth, but was promoted back ahead of Verstappen, who was penalized for causing a collision with Ferrari's Sebastian Vettel.
The result means Vettel's lead in the championship over Hamilton has been cut to 11 points, with Mercedes driver Valtteri Bottas, who finished second, only three behind the Briton and Ricciardo a further three behind the Finn.
Hamilton's teammate Valtteri Bottas appeared on course for an excellent victory over Vettel before the safety car period after the Finn jumped the Ferrari during their pit stops.
There will be a post-mortem at Ferrari as to how they let that happen, given Vettel was leading by more than three seconds before Bottas' stop on lap 19 on 56, with Vettel stopping a lap later.
But the safety car threw in a curve ball and Red Bull grabbed their chance. It was introduced so marshals could clear debris from the hairpin after a collision between Toro Rosso's Pierre Gasly and Brendon Harley.
Ricciardo was visibly aggressive out on track, in his attempts to claw back the time lost following an engine failure in qualifying. At the time, Bottas was leading from Vettel, Verstappen, Hamilton, Ricciardo and the second Ferrari of Kimi Raikkonen, whose race had been sacrificed to try in vain to help Vettel earlier in his fight with Bottas.
Verstappen was at this stage favorite to win, as the lead Red Bull driver, but he tried a move around the outside of Hamilton at the fast Turn Seven from too far back on lap 39 and ran off the road, letting Ricciardo past.
(SD-Agencies)