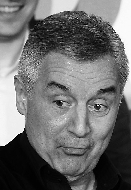 MONTENEGRO'S ruling party leader Milo Djukanovic swept a presidential election Sunday, preliminary results showed, and he pledged to keep the small Balkan country firmly on a European path after it joined NATO last year in defiance of Russia.
Djukanovic won 54 percent of the ballots, securing a victory in the first round and avoiding a runoff, according to results released by the independent Center for Monitoring and Research. His main opponent, Mladen Bojanic, won 33 percent.
If confirmed in the official vote count, the result will present a major boost for Djukanovic and his ruling Democratic Party of Socialists (DPS).
Sunday's vote, the first since Montenegro joined the Western military alliance in December, was seen as a test for Djukanovic, who favors European integration over closer ties to traditional ally Moscow.
"We have accomplished an important victory for Montenegro's European future," Djukanovic told supporters, adding he saw the triumph "as the confirmation of Montenegro's strong determination to continue on the European road."
Djukanovic's party earlier declared him the winner as supporters took to the streets to celebrate. Crowds drove in cars around the capital, Podgorica, honking horns and waving flags as fireworks lit the sky.
"Milo Djukanovic is the new president of Montenegro," said Milos Nikolic, of the DPS. "This is a great victory, a historic victory."
Challenger Bojanic, who was backed by several opposition groups, including pro-Russian ones, vowed to continue his struggle against Djukanovic, describing him as "the man holding Montenegro and its institutions hostage." (SD-Agencies)