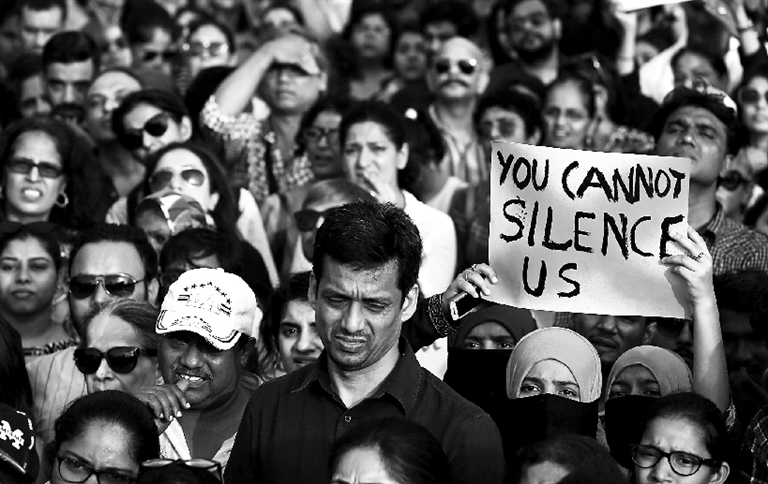 THE rape and murder of an 8-year-old girl and the separate rape of a teenager have sparked mass protests across India, with levels of public outrage not seen since the death of a young woman on a bus in 2012.
On Sunday, thousands of people demonstrated in New Delhi, Mumbai, and other cities, demanding that the government quickly prosecute rape suspects.
The widespread demonstrations have also engulfed Narendra Modi's ruling BJP party in an election year, with the party accused of trying to shield a state MP in one case and of defending the accused in the other.
The body of the 8-year-old girl, Asifa Bano, was found earlier this year in Kathua.
She was lured into the woods by her attackers, drugged, locked in a temple, gang raped for days and finally strangled.
The victim came from a nomadic Muslim community of shepherds, while her alleged attackers are Hindu men, including a local political fixer.
Last week a group of Hindu lawyers surrounded a court in Kashmir, claiming the eight suspects were being discriminated against because of their faith.
That sparked nationwide revulsion, with a social media campaign with tweets by members of the public holding up the words: "I am Hindustan. I am ashamed. #JusticeForOurChild #JusticeForAsifa. 8 years old. Gangraped," running into the tens of thousands.
In Unnao, Uttar Pradesh, a 16-year-old girl accused a ruling party politician of rape.
After weeks of inaction, the victim tried to kill herself in front of the chief state minister's house.
Her father went to file a complaint and died in police custody, leading to the suspension of several officers, pending investigations.
Both the suspect, Kuldeep Singh Sengar, and the chief minister, Yogi Adityanath, are close cohorts of Modi.
Sengar was eventually arrested after the Central Bureau of Investigation took the case out of state police hands, and now remains in custody.
(SD-Agencies)