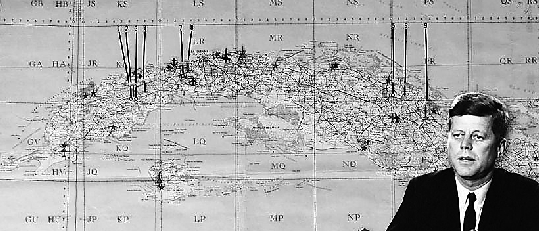 JOHN F. KENNEDY'S personal "victory map" of Cuba used during the Cuban missile crisis sold for US$138,798, according to Boston-based RR Auction.
The map in two sheets that feature eight types of sticker symbols applied to the surface, representing Soviet MiG fighter jets, Komar-class missile boats, IL-28 bombers, SS-4 missiles, SSM-Cruise missiles and nuclear storage sites.
The intelligence represented by this map was supplied by U-2 spy planes, confirming President Kennedy's worst fears of an increasing Soviet military presence just 100 miles (160 km) away from the U.S. coast.
The map is marked "Secret" in the lower left and upper right corners. A two-page key, dated Oct. 27, 1962, summarizes the Soviet military buildup in Cuba, listing sites, enumerating number of launchers and missiles, and completion status.
Accompanied by a detailed letter of provenance, in part: "This 'victory map' was given to me about 20 years ago by Robert McNamara, the secretary of defense during the Cuban missile crisis of October 1962. During a meeting at his office, McNamara described for me the pressure President John Kennedy was under from the joint chiefs of staff to order an attack on Soviet targets in Cuba. McNamara said the president pored over this map before deciding to delay the attack. When Kennedy presented the map to McNamara, he called it the 'victory map.' During my meeting with McNamara, he said this was the only time he ever heard Kennedy say anything that sounded like gloating about how the crisis ended."
In the annals of the Cold War, no event is more talked about and debated than the Cuban Missile Crisis of Oct. 16, 1962 to Oct. 28, 1962. It is considered the closest the world has ever come to a nuclear war.
"This amazing map dates to a critically important day of the crisis — a day that saw an American pilot shot down over Cuba. Had Kennedy given the order to attack, this map shows the nine Soviet targets that American fighters would have bombed," said Bobby Livingston, executive vice president at RR Auction.
"It's a remarkable, museum-quality Kennedy piece — the current political tension between the United States and Russia may have played a role in elevating interest, and helping the map achieve such an impressive figure."
The winning bid came from a collector in Los Angeles who wishes to remain anonymous.(SD-Agencies)