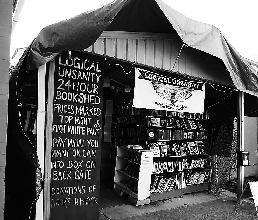 ANYBODY who has spent time in Australia would be familiar with the honesty system of buying fresh produce.
Bookstore owner Yarran Jenkins, 28, has brought that tradition to the inner-Brisbane suburb of Bardon, where he has offered books for sale for whatever the buyers see fit to pay.
Jenkins's shop, Logical Unsanity, included a cash box in what he called the "book shed" at the front of his Morgan Terrace business. It was open 24 hours a day, seven days a week, and worked on the basis that customers could pay what they thought the book was worth, by putting cash in the box.
Jenkins said some people who came to the shop were also looking for more than just books.
"There are numerous notes from people late at night out walking, they're suicidal or really depressed or really anxious, and they've written really lovely notes about how it's helped them," he said.(SD-Agencies)