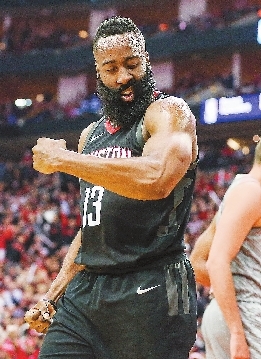 JAMES HARDEN scored 44 points and powered a big fourth-quarter run that allowed the Houston Rockets to outlast the Minnesota Timberwolves 104-101 Sunday night in Game 1 of the first-round playoff series.
"We were struggling to make shots, struggling to really have any kind of rhythm and James put us on his back," coach Mike D'Antoni said. "He's been doing it for a while now."
Minnesota scored four straight points to get within 3 with about 30 seconds left. Chris Paul added two free throws after that for Houston, but a tip-in by Karl-Anthony Towns got Minnesota back within 3. After a bad pass by Paul gave the Timberwolves a chance to tie it with 1.5 seconds left, Jimmy Butler's shot was short.
"Came up short," Butler said. "But I'd shoot it again if I had the opportunity."
The Timberwolves had a one-point lead with about seven minutes left when Houston used a 9-0 run, with the last seven points from Harden, to make it 94-86 with about four minutes to go. Harden, who also had a steal in that span, capped the run with a 3-pointer that prompted Minnesota coach Tom Thibodeau to call a timeout.
Jeff Teague ended Minnesota's scoring drought with two free throws after the timeout and added a 3-point play after a basket by Harden. Harden made another shot to give him 11 straight points for Houston before another basket by Teague.
Harden got Capela in on the scoring after that, finding him for an alley-oop that pushed the lead to 101-93 with less than three minutes left.
"Honestly I was just trying to be aggressive and make the right play," Harden said. "I think if you have that aggressive mindset, good things will happen."
The top-seeded Rockets had their hands full with the No. 8 Timberwolves on a night where Houston made just 10 of 37 3-pointers. (SD-Agencies)