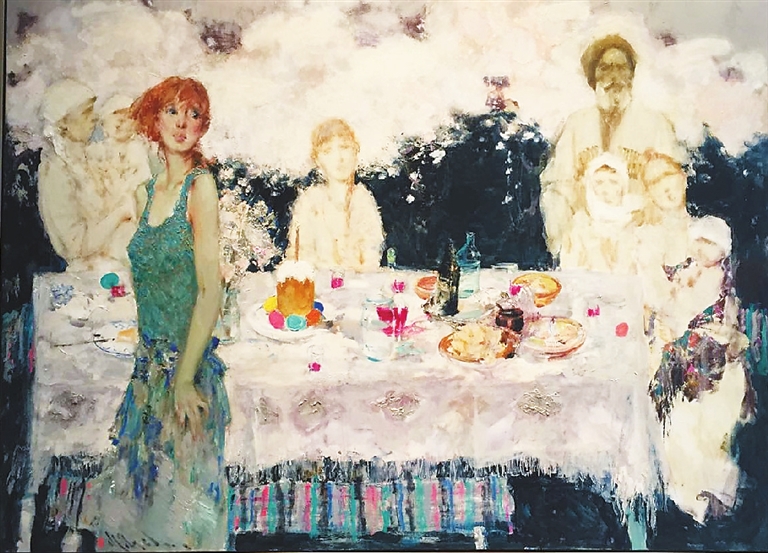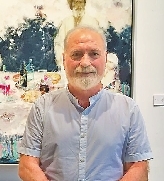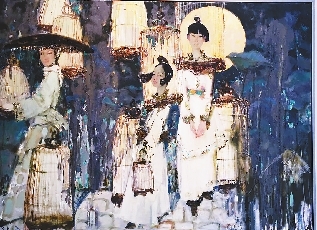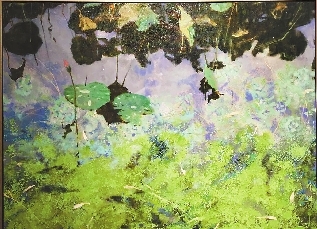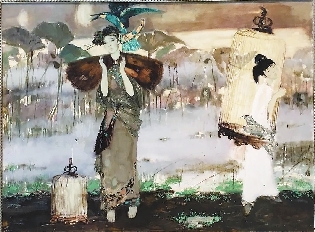 Debra Li
debra_lidan@163.com
UNDER low-hanging clouds and surrounded by green bushes that have just awakened from the cold winter, a long table covered by layers of white and checkered tablecloths occupies the center of the painting, on top of which are dishes, a jar of honey, glasses and bottles of liquor. Sitting around the table are the departed family members and relatives of a young girl wearing a turquoise top and bluish-gray skirt. With wheat-colored hair, she has a sad look in her eyes.
Titled "The Memories of Kuban," this 2016 oil on canvas piece by Ukrainian Mykhailo Guida is among 30 paintings on display at Artron Art Center in Nanshan District.
"I was thinking of Easter Sunday while painting this piece. With the seasons changing and everything in nature presenting itself as renewed, you will suddenly realize that some of the things close to your heart will never come back again," the artist said.
"Kuban is my hometown, and memories about one's hometown are inevitably entwined with the good old days, which can make people feel things."
A professor with the National Academy of Fine Art and Architecture in Ukraine, Guida was given the Shevchenko National Prize, the highest state prize in Ukraine for works of culture and arts, in 2016.
Guida started painting in the 1980s, and many of his works, which includes historical depictions, landscapes, portraits and still lifes, display a distinct personal style, departing from the traditional realism and postmodern styles of Russian and Ukrainian artists, such as well known Ukrainian artist Nikolaj Prokopenko. Though he works in oils, many of Guida's works seem Oriental at first glance, partly due to his free-handedness and subject matter.
Chinese landscapes, women and the artists' imaginative lives are prominent themes in some of the paintings on display. In "Bird Island," women wear bird cages as accessories, while "Reflection" depicts lotus leaves and flowers reflecting in the West Lake.
Since the 1990s, Guida has taught in several Zhejiang universities and held exhibitions in Chinese cities like Beijing and Shanghai.
Apart from his Chinese influencers, Guida considers Spanish painter Diego Velazquez and Austrian Gustav Klimt to have strongly directed his aesthetic.
"Worshipped by many artists, Velazquez is a master of colors. Using a rather limited palette, he mixes the available paints with great skill to achieve varying hues," Guida explains. "Velazquez is also superb in that he uses seemingly simple but vivid brushwork to bring out the personality of his portrait subjects, in contrast to the Baroque academic style of his contemporaries."
Personally, Guida says he likes black, white and gray tones. "Gray is a complicated color. It can be cold or warm, dark or light, depending on your choice," he said.
One of Guida's greatest influences and famous Austrian artist Klimt, in contrast, reflects a strong influence from Japanese art and its methods.
The exhibition, including landscapes, portraits and still lifes, runs through May 2 and is free to the public.
Dates: Now through May 2
Tickets: Free
Add: 5/F, 19 Shenyun Road, Nanshan District
(南山区深云路19号雅昌艺术中心5楼)