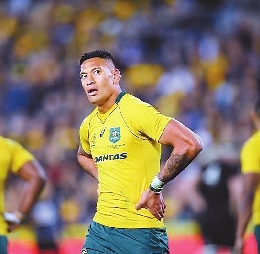 RUGBY Australia will not sanction Israel Folau for controversial anti-gay comments posted on social media, the governing body said yesterday, as the Wallabies superstar revealed he was willing to walk away from the sport over his religious beliefs.
Folau, a devout Christian and one of the code's most marketable players, wrote on social media this month that God's plan for gay people was hell unless they repented their sins.
"Rugby Australia will not sanction Israel Folau for his comment posted on a social media platform on April 4," said a statement.
The decision came after Folau defended the post late Monday on www.playersvoice.com.au, a website for sports people to air their views, saying he had written them "honestly and from the heart."
"Anyone who knows me knows I am not the type to upset people intentionally," the 29-year-old wrote, adding that suggestions he was homophobic and bigoted "could not be further from the truth."
Folau also hit out at Rugby Australia chief Raelene Castle for her comments about him after he was summoned to a meeting with the governing body, which has an inclusion policy to stop discrimination, over his anti-gay remarks.
Castle had said the star had acknowledged his comments could have been made "in a more respectful way."(SD-Agencies)