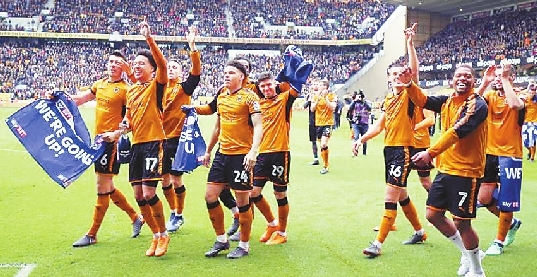 IT was a promotion push funded in China, masterminded in Portugal, and realized in an industrial city in central England.
Wolverhampton Wanderers are back in the English Premier League (EPL) after a six-year absence and the club has taken a very global route to get there.
A contentious one, too.
The fact that Wolves' best player, Portugal midfielder Ruben Neves, joined the club after swapping the bright lights of the Champions League for the grueling churn of England's second-tier League Championship demonstrates that this is no normal promotion story.
So does the involvement of so-called "super-agent" Jorge Mendes, whose close links to Wolves' owner — Chinese conglomerate Fosun International — has given him vast influence at the club. Seven of Mendes' clients are at Wolves, including Neves — the record signing from Portuguese giant FC Porto — and manager Nuno Espirito Santo, the former coach of Porto.
Throw in Fosun's spending power and it was hardly a level playing field when Wolves began its bid for promotion last August, starting out with a 1-0 home win over Middlesbrough. Eight months later, they sealed a return to the Premier League last weekend with four matches to spare in one of the most convincing second-tier campaigns in years.
"Promotion into the Premier League is a major, major component of where we want to take this club, but this is not the end," Wolves managing director Laurie Dalrymple said Monday. "We want to get in the Premier League and compete strongly for a long time. We want to position ourselves in the very elite of English football.
"There shouldn't be any limits to our goals here."
Wolves' sporting director, Kevin Thelwell, used similar language to describe the club's ambition.
"We are not keen to put a ceiling on it really, it's almost dare-to-dream stuff," he told British newspaper The Guardian.
"Fosun are uber-ambitious, and they have been uber-supportive. With the squad we've got, the age of the players, the coach we've got, sky's the limit really."
Wolves won three top-flight titles in the 1950s and the last of its four FA Cups in 1960.
Having won 29 of their 43 league games and lost only on penalties to runaway Premier League champion Manchester City in the League Cup, Wolves will take momentum — and likely some more high-profile signings — into next season.
(SD-Agencies)