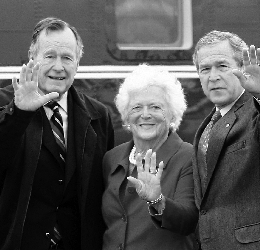 FORMER U.S. first lady Barbara Bush died Tuesday at the age of 92, triggering widespread tributes for the matriarch of a Republican family that served at the top of American politics.
Barbara Bush has long been considered the rock at the center of one of America's most prominent political families, as the wife of a president and the mother to another — George W. Bush — and to Jeb Bush, a former Florida governor and onetime presidential aspirant.
She first met her husband-to-be at the age of 16 when she was a schoolgirl and he was a student at an elite preparatory school in Massachusetts. They married in 1945 while he was on leave from wartime service as a naval officer. The couple had six children.
As first lady, from 1989 to 1993, she embraced the cause of universal literacy, and founded a foundation for family literacy.
Her son Jeb wrote: "I'm exceptionally privileged to be the son of George Bush and the exceptionally gracious, gregarious, fun, funny, loving, tough, smart, graceful woman who was the force of nature known as Barbara Bush." And his son George P. Bush tweeted: "I will miss you, Ganny — but know we will see you again."
Bush gained a reputation for toughness, wry humor and straight-speaking.
Asked in 2010 about former Alaska governor Sarah Palin — who sought the vice presidency in 2008 — she told an interviewer: "I sat next to her once, thought she was beautiful, and I think she's very happy in Alaska, and I hope she'll stay there." (SD-Agencies)