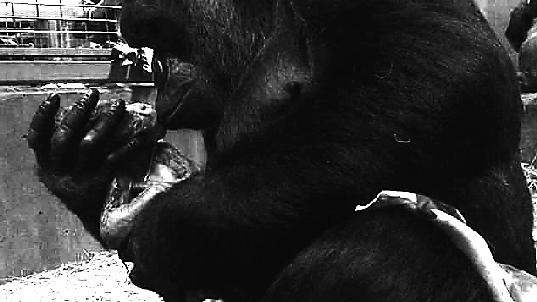 ASTONISHING photographs and video from a U.S. zoo show the first interaction between a mother gorilla and her newborn baby.
First-time mother Calaya gave birth to her son, Moke, a western lowland gorilla, Sunday at the Smithsonian National Zoo & Conservation Biology Institute in Washington, D.C.
The astonishing gorilla birth was the first in nine years to take place at the zoo. Zoo officials captured the special moment, which was shared to the zoo's website as well as social media Monday morning.
"We're thrilled to share western lowland gorilla Calaya gave birth to a male at 6:25 p.m. 4/15. His name, Moke, means 'junior' or 'little one' in the Lingala language," the National Zoo wrote on their Twitter page.
"Keepers report that Calaya has been caring for her infant & are optimistic he will thrive."
The adorable baby gorilla was bred last summer by 15-year-old mom Calaya and 26-year-old father Baraka.
The extremely caring mother is seen in video footage holding onto her baby while keeping a locked gaze on him.
She then gently kisses Moke several times while admiring him and holding the baby close before laying him down to rest inside the enclosure.
Zoo officials gushed about the happy moment — not just for Calaya, but everyone at the zoo.
"The birth of this western lowland gorilla is very special and significant, not only to our Zoo family but also to this critically endangered species as a whole," Meredith Bastian, curator of primates, said in a statement.
(SD-Agencies)