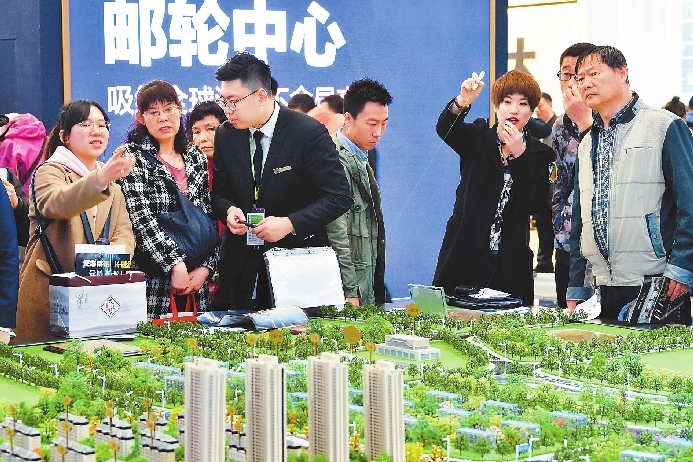 NEW home prices rose for their 35th consecutive month in March in the country, with more cities reporting growth as the government supports demand from first-time buyers and despite persistent curbs to dampen speculative demand.
Average new home prices in China's 70 major cities rose 0.4 percent in March from the previous month, up from 0.2-percent growth in February, showed calculations from National Bureau of Statistics (NBS) data published yesterday.
The majority of the 70 cities surveyed by the NBS still reported monthly price increases for new homes. Fifty-five cities reported higher prices in March, up from February's 44.
"Today's data shows there is still significant upwards price pressure," said Yan Yujin, an analyst with Shanghai-based E-house China R&D Institute. "It is possible some cities will release more tightening measures."
China's property market has soared since 2016, giving a major boost to the economy but also raising concerns about bubbles. Prices have slowly levelled off and even softened in tier-1 cities following government measures to rein in speculative investment.
While more than 100 cities have introduced some measures to cool home prices, analysts still expect moderate price appreciation in the country's vast number of smaller centers where regulations are less restrictive.
Price gains reported by smaller provincial capitals expanded by 0.3 percentage points in March from that in February. Haikou, a port city and the capital of Hainan, became the top price performer in March, up 2.1 percent month on month.
Meanwhile, prices in top-tier cities also increased 0.1 percent in March from February, reversing a fall in the previous month, the NBS said in a statement along with the data.
Ouyang Jie, vice president of Shanghai-listed Future Land, said developers have been rushing to roll out new projects in the hope of accelerating sales and securing funding, especially in smaller cities where inventories are falling rapidly.
"More high-end projects were released into the market in March as some were delayed by authorities in the beginning of the year," said Joe Zhou, head of research for JLL China, a property services firm.
"Developers also have more pricing rights in smaller cities for now because they had a really good sales year in 2017 in those markets."
But Zhou also warned of the risks of a moderate price correction later this year with demand frontloaded in smaller cities and signs of softening as more supply becomes available.
New household loans, mainly mortgages, totalled 580 billion yuan (US$92 billion) in March. They made up 52 percent of total new yuan loans, versus 33 percent in February.(SD-Agencies)