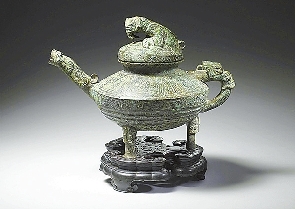 A RARE 3,000-year-old bronze vessel thought to have been looted from the Old Summer Palace in Beijing in 1860 has fetched 410,000 pounds (US$581,000) at an auction in Kent, in the south of England.
The water vessel, dating from the Western Zhou Dynasty (11 century-771 B.C.), was sold at the Canterbury Auction Galleries despite protests from China's State Administration of Cultural Heritage, which said that it strongly opposed and condemned the sale of looted property.
China's national cultural relics watchdog demanded the item be withdrawn from sale and called for buyers to boycott the auction.
Despite China's objections, the sale of the Tiger Ying, named because of its tiger motif, went ahead with the opening bid at 120,000 pounds. There were eight telephone bidders and the hammer came down at more than three times the opening bid.
It is thought that only six similar vessels, known as ying, exist, and five of those are in museums. Ying refers to an ancient type of water vessel.
Hajni Elias, a Chinese art and cultural historian who helped research the origins of the Tiger Ying, described it as "special and unequaled."
"We cannot underestimate the wealth and sophistication of the late Zhou culture that created such an outstanding bronze vessel," she said. "Only men of high status, such as kings, nobles and officials, were able to obtain them."
Documents found by the auction house suggest that Royal Marines Captain Harry Lewis Evans (1831-83) took the vessel from the Old Summer Palace, also known as the Yuanmingyuan, at the end of the Second Opium War, when it was destroyed and sacked by British and French troops in 1860.
In letters home, Evans described the looting of the Yuanmingyuan and wrote, "I succeeded getting bronzes and enamel vases that will, I hope, some day find their way to [his home in the United Kingdom]."
The auction house also sold three Qing Dynasty (1644-1911) bronzes from the Evans collection for prices between 9,000 and 15,000 pounds.
In a statement last week, the State Administration of Cultural Heritage said, "We hope the related institutions will abide by the spirit of international agreements, respect the feelings of the people in the country where the relic is originally from and not trade looted relics." The agency had not commented on the sale.
(China Daily)