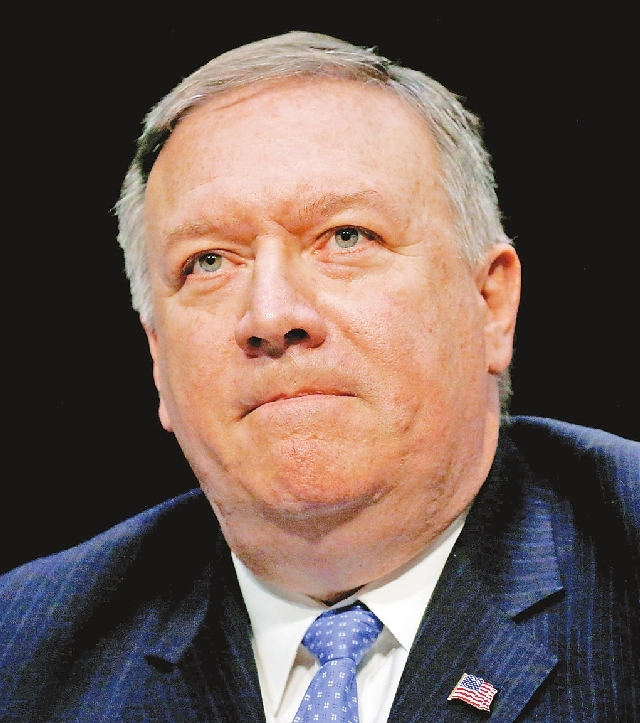 MIKE POMPEO, named the next U.S. secretary of state, comes from a one-year stint leading the Central Intelligence Agency (CIA) where he earned Donald Trump's trust delivering the president's daily national security briefings and by toeing Trump's line politically.
Pompeo, who will replace Rex Tillerson, brings the discipline of a former standout at West Point, the prestigious U.S. military academy, as well as the political wiles of a four-term member of the House of Representatives, where he served on the controversial House Intelligence Committee.
As CIA director he cut a path into Trump's inner circle with ready praise of the president, personally delivering many of the Oval Office's crucial daily intelligence briefings.
He echoes Trump's hard line against Iran and North Korea. But, currying the president's favor, Pompeo has also avoided directly contradicting Trump's insistence that Russia did not work to support his election in 2016 — even though that is what the CIA concludes.
President Trump has expressed confidence that Pompeo will be confirmed as secretary of state after a stern warning the White House issued Wednesday that opposition to Pompeo's nomination could imperil efforts to negotiate a summit between Trump and North Korean leader Kim Jong Un.
Trump has constantly praised Pompeo, once saying he was "always on the same wavelength" — something that he could not say for his former chief diplomat Tillerson.
"I have worked with Mike Pompeo for quite some time, tremendous energy, tremendous intellect. With Mike Pompeo, we have a very similar thought process," Trump told reporters. "We are always on the same wavelength. The relationship has always been good and that is what I need as secretary of state."
Trump also praised Pompeo over the news that broke Tuesday evening of his secret trip to North Korea on Easter weekend to meet directly with Kim.
"He just left North Korea," Trump said. "Had a great meeting with Kim Jong Un and got along with him really well, really great."
Trump added, "I have a feeling it's going to work out very well and I think our country really needs him."
Democrats who oppose Pompeo's confirmation have said they are skeptical of his diplomatic skills and some have cited concerns with his previous statements that they said were discriminatory towards LGBT people and Muslims.
His critics also fear what it could mean for the rest of the world as he has also openly defended torture tactics and doesn't acknowledge climate change.
Pompeo, 54, a former Republican congressman from Kansas, has had a meteoric career that leaned heavily on political opportunities that ultimately led him to Trump.
Born and raised in southern California, he attended the U.S. Military Academy at West Point, where he graduated top of his class in 1986, specializing in engineering.
He served in the military for five years — never in combat — and then left to attend Harvard Law School.
He later founded an engineering company in Wichita, Kansas, where financial backers included the conservative Koch brothers, oil industry billionaires and powerful movers and shakers in the Republican Party.
The Kochs backed his successful first run for Congress in 2010, and energy-related legislation he promoted in his first years in the House of Representatives was seen as very friendly to them.
He moved quickly onto the House Intelligence Committee, where, as overseer of the CIA and other agencies, he was privy to the country's deepest secrets.
But he made his name on the special committee Republicans formed to investigate the 2012 killing of a U.S. ambassador and three other Americans in Benghazi, Libya.
It made him a leading voice against Trump's political nemesis, Hillary Clinton, who as secretary of state at the time was blamed by Republicans for the deaths.
He co-authored a lengthy addendum to the committee's findings in which he blasted Clinton for "a tragic failure of leadership" and accused the Obama administration of trying to cover up the true nature of the Benghazi attack.
As director of the CIA, Pompeo has matched the tone of Trump's foreign policy pronouncements.
"The CIA, to be successful, must be aggressive, vicious, unforgiving, relentless," he said.
He joked about assassinating North Korean leader Kim, which raised fears of a return to the agency's penchant for backing assassinations of leaders not in U.S. favor.
He earned the president's trust in the daily national security briefings, where he has readily accommodated the president's aversion to reading long reports by having intelligence staff prepare simple graphic presentations of global risks and threats.
One White House official previously told CNN that Pompeo delivered in person three to four times a week.
After the briefings, Trump frequently asked Pompeo to stick around to continue chatting one-on-one, the official said in November as initial rumors that Tillerson could be on the way out began to swirl.
In January, Pompeo praised Trump's ability to digest intelligence as it is presented to him.
"I have seen 25-year intelligence professionals receive briefings. I would tell you that President Trump is the kind of recipient of our information at the same level that they are," Pompeo said during an event at the American Enterprise Institute.
"Things move awfully fast. He has the grounding for him to be able to grasp this information in a way that he can ask sophisticated questions that then lead to important policy discussions," Pompeo added.
He also defended Trump's mental abilities earlier this year in the wake of claims made by Michael Wolff in his book, "Fire and Fury: Inside the Trump White House," that Trump does not read or properly process information presented to him.
"Those statements are just absurd," Pompeo said at the time. When he delivers information to Trump almost daily, the president engages with it and is an "avid consumer" of the CIA's work, Pompeo said.
For months, Pompeo has highlighted Russia's efforts to influence the 2016 presidential campaign — despite the unwavering skepticism of Trump — and raised concerns that it will target the November midterms.
"I have every expectation that they will continue to try and do that, but I'm confident that America will be able to have a free and fair election [and] that we will push back in a way that is sufficiently robust that the impact they have on our election won't be great," Pompeo told the BBC earlier this year.
Trump has cast doubt on accusations of Russian meddling. He has questioned whether the Russians were responsible for hacking the Democratic National Committee (DNC), and he has called the entire "Russia story" a hoax perpetuated by angry Democrats. He even convinced Pompeo to personally meet with a conspiracy theorist who denies that Russia hacked the DNC.
Asked if he must "walk a fine line" due to Trump's dismissive attitude about claims of Russian election interference, Pompeo said: "I don't do fine lines. I do the truth."
(SD-Agencies)
Life and resume
•Pompeo is 54. He grew up in California and attended the United States Military Academy at West Point, where he graduated first in his class in 1986. He served as a cavalry officer in the Army until 1991, reaching the rank of captain.
•He graduated from Harvard Law School in 1994 and was an editor of the Harvard Law Review.
•Pompeo founded Thayer Aerospace in Kansas in 1998 with help from investors including Koch Industries, which is run by brothers Charles and David Koch, the conservative political activists. After selling his stake in Thayer in 2006, Pompeo became president of Sentry International, an oil-drilling equipment company tied to Koch Industries.
•He won a seat in the House of Representatives in 2010, representing Kansas. He ran as a Republican aligned with the Tea Party movement, and received significant backing from the Kochs. McClatchy reported in November 2016 that "Members of the Koch family, their employees and affiliated groups have donated a combined US$357,300 to Pompeo's campaigns and political action committee, according to The Center for Responsive Politics."
•In the House, Pompeo was seen as hawkish on national security issues. He defended the CIA against a 2014 report on widespread abuses in the agency's treatment of prisoners in the post-9/11 era. "Our men and women who were tasked to keep us safe in the aftermath of 9/11 — our military and our intelligence warriors — are heroes, not pawns in some liberal game being played by the ACLU and Senator Feinstein," Pompeo said Dec. 9, 2014.
•According to Politico, "Pompeo was a strident voice on the House's special committee to investigate the Benghazi attacks, ultimately joining in a statement that blasted former Secretary of State Hillary Clinton more harshly than most of his Republican colleagues."
•He was also a harsh critic of the Obama administration's nuclear deal with Iran, supports keeping the Guantanamo Bay detention center open, and believes that NSA whistleblower Edward Snowden should "be given a death sentence."
•After the Boston Marathon attack in 2013, Pompeo "accused Muslim American leaders of being 'potentially complicit' by failing to condemn extremist views more forcibly," the Washington Post reported.
•Pompeo was confirmed as Trump's CIA director shortly after the president's inauguration last year. In that role, he has acknowledged Russian attempts to influence the 2016 election, despite denials of that by Trump and the White House.(SD-Agencies)