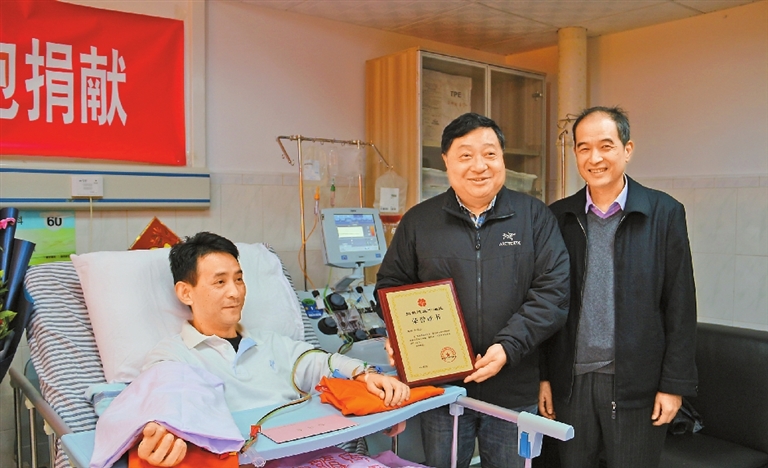 "THIS is not a heroic feat, but it's possible to save a person's life. I think it's worth it to have this experience once in a lifetime," said Zhang Cunhua, the 7,152nd and 242nd donor of hematopoietic stem cells in China and in Shenzhen, respectively.
Zhang, 41, is a staffer of the offices administration of Futian District Government. He donated hematopoietic stem cells at the Shenzhen Blood Center on March 9, keeping hope alive for a 13-year-old leukemia patient in Guangzhou.
Zhang first heard of donating hematopoietic stem cells back in 2002, when he was donating blood. "After I learned that a bone marrow transplant could really help some patients with blood diseases, I filled in the application form," he said.
Zhang has insisted on donating blood for the past 16 years. Last November, he received a call from the blood center, telling him that his blood information had been matched with a patient.
According to statistics, the probability of siblings matching is 25 percent, but the probability of matching nonrelatives lies in the range of one in a 100,000 to one in a million.
Zhang told the news to his wife, had a body examination and began to prepare for the donation. During the Spring Festival, he stopped drinking alcohol and gave up smoking.
"As a parent, I can fully understand the expectations of the other family. So I must be absolutely prepared," said Zhang, after he was told that the patient is a 13-year-old boy, the same age as his daughter.
Except his wife, Zhang hadn't mentioned the donation to anyone, even at his workplace. It wasn't until they received an official letter about his leave of absence that his co-workers knew his "secret." It was sent from the blood center, as Zhang needed to be hospitalized during the donation.
(Zhang Yu)