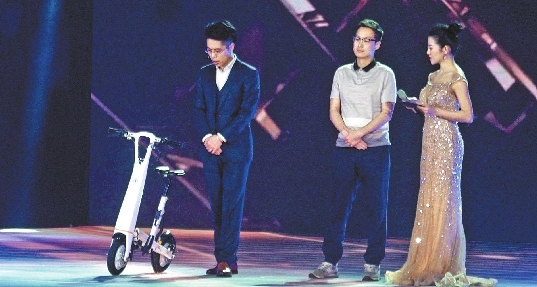 Zhang Yu
JeniZhang13@163.com
HALO City, an ultra-compact moped-like vehicle characterized by a perfect balance of functional design, material selection and marketing, was the biggest winner of the first Shenzhen Global Design Award.
In addition to the grand award, two golds, four silvers and 10 bronzes were also presented at the award ceremony held Friday evening. Total prize money given by the design award was US$1 million, of which the grand prize was US$200,000.
Halo City is a foldable vehicle. The material, design and the folding pattern are all original designs from Shanghai-based agency A-four Design. According to the designers, it is a travel tool that aims to solve the "last mile" problem for daily commuting.
With a compact structure, the vehicle can be carried on public transport vehicle or put in the trunk of a car. The whole design embodies a new mode of transportation and an environmentally-friendly lifestyle.
"The competition provides a very good platform. I think designing doesn't mean working behind closed doors. It requires active communication," said Cai Yijia, a member of the winning team.
The two gold awards were presented to WT2 Real-time Earphone Translator and BioLite CampStove 2. According to the judges, the two pieces are both ingenious and people-oriented. The former helps people surmount language barriers when traveling or living abroad, while the latter burns renewable biomass to create a smokeless fire that can cook meals and boil water in outdoors.
Launched in 2017, Shenzhen Global Design Award aims to discover and commend outstanding designers with vision, creativity and influence. It also aims to enhance the exchanges and cooperation among designers from different countries, inspire the industrialization of creative design, and promote innovative design concepts.
A total of 1,014 entries from 12 countries and regions were submitted for this year's selection. The organizer invited eight senior international judges to select the winners.
The opening ceremony of the 2018 Shenzhen Design Week officially kicked off Friday morning. More than 1,000 designers from 25 countries and regions participated in the design week and more than 2,500 pieces of works are exhibited through April 30.