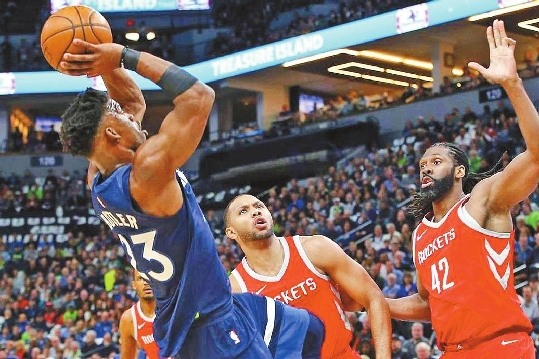 JIMMY BUTLER hit four 3-pointers among his 28 points and Karl-Anthony Towns snapped back from a bad start to the series with 18 points and 16 rebounds, leading the Minnesota Timberwolves past the Houston Rockets 121-105 in Game 3 Saturday night for their first postseason victory in 14 years.
"This city deserves being in the playoffs a little bit longer," Butler said. "We'll see what we have. But as long as we guard, as long as we defend, we'll put ourselves in a good enough position to win."
Jeff Teague scored 23 points and Andrew Wiggins pitched in 20 points with another four 3-pointers, helping the Timberwolves match the NBA's best 3-point shooting team with 15 makes apiece from long range. Minnesota took 27; Houston launched 41.
"I tell everybody all the time, as long as you're in rhythm, no matter if somebody's in front of you or not, it's a good shot for you because we think that you can make that," Butler said after the Wolves shot 50 percent overall from the floor.
Not to be left out was Derrick Rose and his 17 points off the bench, including 10 points in nine minutes before halftime. The Wolves closed the third quarter with a 26-14 run and produced spurts of 15-3 and 11-2 in the final period, perfecting their plan to play at a faster pace.
"We've got to do a better job of imposing our will at the beginning of the game," said James Harden, who led the Rockets with 29 points.
The Rockets made four 3-pointers on their last seven possessions of the first half to turn an 11-point deficit to just one in less than 3 minutes up until the break. Butler twisted his left ankle during that stretch, causing him to clutch his foot in pain and create some brief anxiety in the arena, but he didn't require, or at least accept, any medical attention. There was no hint that he was hurt in the second half.
"He's the heart and soul," said Teague, who made three 3-pointers himself. "When he's out there competing, it rubs off on everybody."
Taj Gibson hounded Harden and forced an airballed 3-pointer, prompting the apex of the noise throughout the night with the Wolves ahead 77-70. Towns powered his way past Ryan Anderson for a layup and a three-point play with 1:57 left in the third quarter, pushing the lead to 10 points.(SD-Agencies)