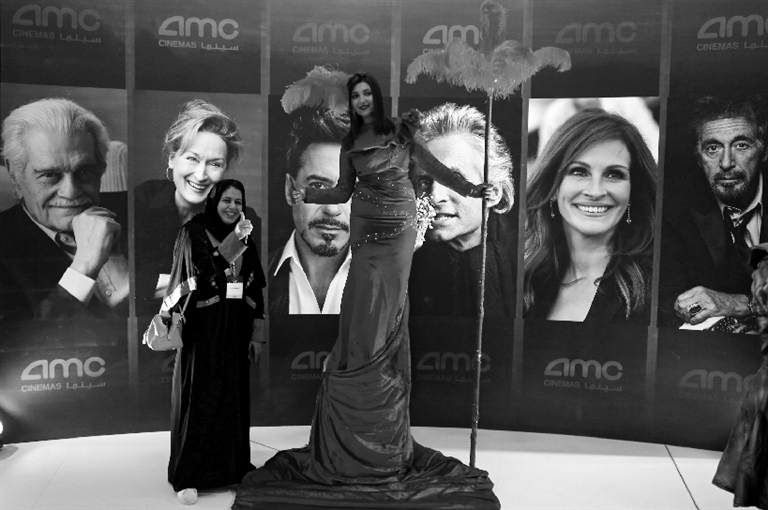 SAUDI ARABIA is screening the Hollywood "Black Panther" this week in Riyadh to mark the return of the public cinema after 35 years and the beginning of plans to open dozens of movie theaters in major cities.
An initial screening of the film Wednesday night in the capital, Riyadh, was by invitation only with both men and women in attendance at a gala, ribbon-cutting ceremony.
It was held at a concert hall converted into a cinema complex in the capital. It opened to the general public Friday.
Audience members were clearly thrilled with the return of the silver screen after more than three decades. They ate popcorn and erupted into applause and hoots when the movie started.
A Saudi private investment firm, in collaboration with AMC Entertainment, an American cinema chain, hosted the opening night and plan to open three more screens at the complex later this year, according to the Saudi Gazette.
The partnership envisions opening 30 to 40 cinemas in some 15 cities nationwide over the next five years. By 2030, the Saudi Government hopes to have up to 100 more up and running in 25 cities.
The revival of the cinema is the latest move by 32-year-old Crown Prince Mohammed bin Salman, with the blessing of his father, to ease social restrictions by also opening concert halls, clubs and dropping the ban on women drivers.
"This is a landmark moment in the transformation of Saudi Arabia into a more vibrant economy and society," Saudi Minister of Culture and Information Awwad Alawwad said in statement ahead of the screening. "Cinema has always played an important role in bringing cultures together, and Saudi Arabia is ready to play its part," he said, according to Saudi Gazette.
Movies screened in Saudi cinemas will be subject to approval by government censors, as is the case in other Arab countries. Scenes of violence are not cut, but scenes involving nudity, sex or even kissing are often deleted.
The U.S.-based AMC was granted the first license to operate a cinema in Saudi Arabia in a deal signed earlier this month in California with the crown prince.
Until now, Saudis who wanted to watch a film in a movie theater would have to drive to nearby Bahrain or the United Arab Emirates for weekend trips to the cinema. Other at-home options include streaming services, such as Netflix, and satellite TV, although this can run into attempts by the government to censor what the Saudi public could view.
The film "Black Panther," which has taken in more than US$1.2 billion worldwide, is a particularly apt film to end the ban.
It features an African country that was never colonized or conquered and used its wealth to develop advanced technology while isolating itself from the rest of the world.
(SD-Agencies)