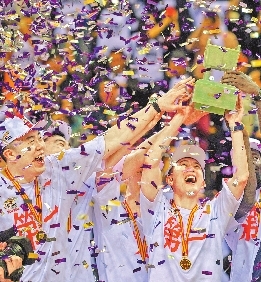 WHEN Liaoning's center Han Dejun slam dunked in the last minute in Shenyang on Sunday night, the whole stadium erupted.
It was a moment long in the making as Liaoning won the Chinese Basketball Association (CBA) championship for the first time in its 23-year history.
As one of the most competitive teams in CBA, Liaoning has been in the Finals six times.
But this season, Liaoning fielded a star-studded squad including former NBA players Lester Hudson and Brandon Bass as well as Chinese national team players Guo Ailun, Zhao Jiwei, Han Dejun and Li Xiaoxu.
Their Finals opponent Guangsha is also a very strong team featuring regular season MVP Courtney Fortson, along with Ioannis Bourousis, Hu Jinqiu and Lin Chih-chieh.
In the first game of the best-of-seven series, the injury to center Su Ruoyu was a harsh blow for Guangsha who was out-rebounded 47-36. Guangsha conceded six more turnovers than Liaoning and slipped to a 108-120 defeat at home.
Game 2 was a thriller. Guangsha led by six points with less than two minutes left in the fourth quarter before Hudson hit two long-range three-pointers in the final minutes to take the game into overtime.
Overtime saw Liaoning catch a second wind and Guangsha failed to match them. Liaoning finally ended the game with a five-point advantage and Hudson turned out to be the most crucial player.
Losing two straight games on their home court devastated Guangsha. Liaoning beat them 104-100 Friday at home, notching up a 3-0 lead in the best-of-seven series.
Liaoning head coach Guo Shiqiang said that he was "especially calm " after the game.
Guangsha couldn't challenge Liaoning in game 4 as the CBA powerhouse swept the regular season champions 4-0 to take home the CBA title.
Former NBA guard Hudson was elected Finals MVP by virtue of averaging 30.5 points in the Finals. (Xinhua)