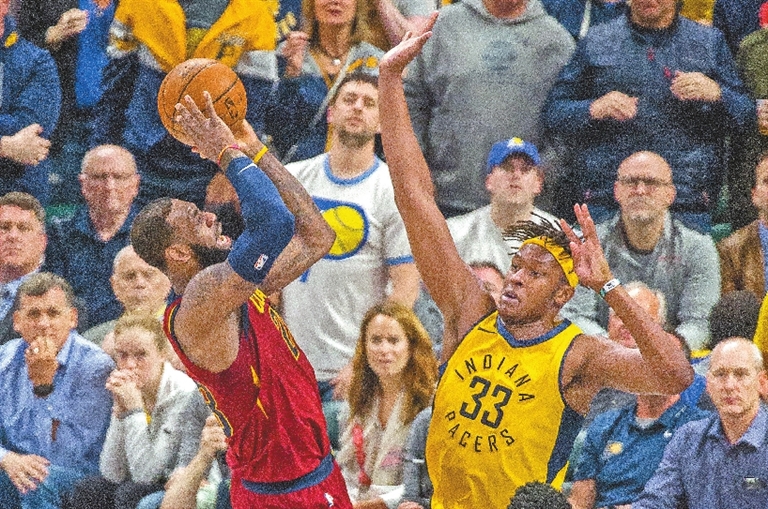 THE Pacers had the Cavaliers hanging perilously close to the brink, only to give the East's reigning champs new life with a dreadful shooting stretch at the worst possible time.
Cleveland defeated Indiana 104-100 in Game 4 at the Bankers Life Fieldhouse on Sunday, evening a back-and-forth first-round series at two games apiece.
The result qualified as sweet relief for LeBron James, who posted monster numbers (32 points, 13 rebounds, 7 assists) but nearly watched the Cavaliers blow a big lead for the second straight game.
If not for a pair of three-pointers by Kyle Korver in the game's final four minutes, Cleveland could easily have returned to Quicken Loans Arena facing elimination Wednesday.
After launching a successful second-half comeback in Game 3, Indiana again dug itself out of a 16-point hole in Game 4. During its best moments, Indiana kept the ball moving one step ahead of Cleveland's spotty defense: Seven different Pacers scored in double figures, and Domantas Sabonis punished the Cavaliers' interior defense for a team-high 19 points off the bench.
Presented with an opportunity to seize control of the series, the Pacers instead went cold, choppy and predictable. Just four of the Pacers' 25 assists came in the fourth quarter, and they made just one field goal during a five-minute stretch of the final period.
"We just didn't play the game the right way," said Pacers coach Nate McMillan. "I thought there were quick shots, some heroic shots, that were taken throughout this game. You're not going to win if you play the game like that. … Sometimes you get in games like this, emotional games, you're so pumped up that you try to do things by yourself. And a lot of times it doesn't work."
Victor Oladipo, a first-time All-Star and the favorite to win Most Improved Player, finished with 17 points on 5-20 shooting. He forced a series of shots down the stretch and occasionally looked uncomfortable in the face of Cleveland's more aggressive double-teaming.
"They did a good job doubling me," Oladipo admitted. "Just got to go back to the drawing board and get better. It's all part of the process and all part of the growth. They did something a little different. … I'm a person that learns. … It's a tough loss and it doesn't feel good. But it's a series and you've got to be even-keel."
James called Game 4 a "must-win" and he was right to do so. Cleveland's offense endured its own cold stretches, and coach Tyronn Lue was forced to play James 46 minutes due to foul trouble for Kevin Love and poor play in the third quarter.
James played the entire second half in both Games 3 and 4 out of necessity, with his supporting cast weakened by injuries and inconsistent play.
Kevin Love scored just five points on 2-10 shooting, George Hill missed the game due to injury, Tristan Thompson was scoreless in seven minutes and reserve guard Rodney Hood failed to make much of an impact for the fourth time in four games. As a result, James appeared to be pacing himself for stretches of Game 4, including during the third quarter, when he didn't make a shot.
(SD-Agencies)