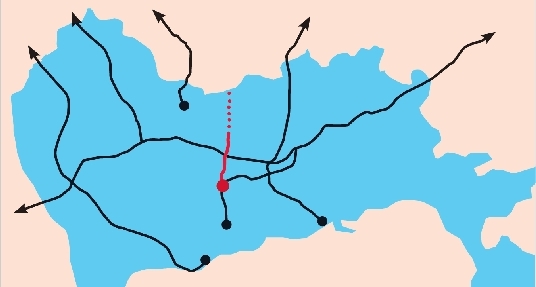 Han Ximin
ximhan@126.com
THE southern section of Phase II of the Qingping Expressway will be toll free starting May 1, and drivers could save 5 yuan (US$0.73) on a single trip from Pinghu in Longgang District to Luohu District, local Chinese-language newspapers quoted the official WeChat account of Shenzhen Transport Commission as saying yesterday.
The commission signed an agreement with the expressway operator, Huayu Group, on March 27 to buy back the company's operation license.
The northern section of Phase II, which is under construction, will also be toll free after completion. No date for completion has been released.
Qingping Expressway starts from Qingshuihe in Luohu and ends in Pinghu. It runs 20.4 kilometers and is constructed in two phases. Phase I, running 7.6 kilometers, was put into operation in 2005 and is a tollway.
The 12.75-km Phase II starts from Longjing Flyover and links with Phase I of Jihe Expressway and Outer Ring Expressway.
The 8.4-kilometer southern part of Phase II was put into operation in September 2013, cutting the trip from Luohu to Pinghu and Guanlan from one hour to 15-20 minutes.
Construction on the 4.4-km northern section was halted to give way to the construction of the Dongguan section of Outer Ring Expressway.
Shenzhen started to buy back expressway operation rights to benefit drivers in April 2014.
So far, Yantian'ao Tunnel and Meiguan, Longda, Nanguang, Yanpai and Yanba expressways have become toll free.
At the end of 2016, the government withdrew the operation license of the Eastern Cross Border Expressway. It will be toll free upon completion.
Trucks running on the Shenzhen section of Guangzhou-Shenzhen Riverside Expressway will enjoy a 50-percent discount on tolls between March in 2018 and Dec. 21, 2020.