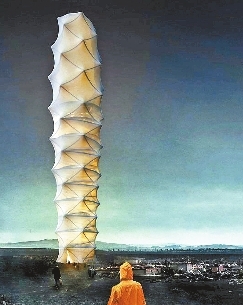 折叠避难所夺冠设计大赛
An origami-inspired* skyscraper that folds up like an accordion could help provide temporary shelter to hundreds of people left homeless in disaster zones.
Designed by a group of Polish architects, the Skyshelter.zip concept could be packed into a box and carried underneath a helicopter to almost any site. The structure of the skyscraper unfolds almost instantaneously* thanks to a large load-bearing helium* balloon placed within, which protects it from external forces.
The design recently won the annual Evolo competition and beat rival efforts from 525 other interesting architectural concepts, including honorable mentions for an Urban Lung that sequesters* carbon in the air and a tower that uses the power of a waterfall to generate energy.
Skyshelter.zip is the work of designers Damian Granosik, Jakub Kulisa and Piotr Panczyk from Poland. The winners of this year's top spot sought to design a disaster relief* structure that can be effortlessly and instantly deployed, even on unstable soil.
Skyshelter.zip's footprint is on average over 30 times smaller than the resources required to host the usual tents or containers used in such situations.(SD-Agencies)