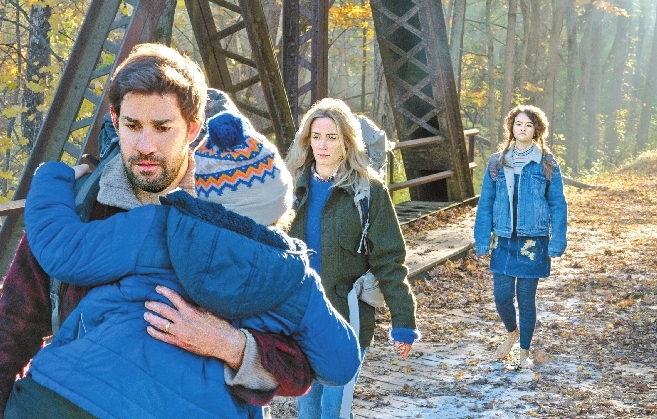 《寂静之地》
A terrifying thriller with a surprisingly warm heart, John Krasinski's "A Quiet Place" is an allegory* for parenting in a world gone wrong. A couple with kids in real life, Krasinski and Emily Blunt play parents in a world where even the slightest noise can lead to sudden, violent death. Training their children to be self-sufficient* without making a sound is a unique challenge.
Opening with a card that reads "Day 89," the movie finds the family gathering provisions in an upstate New York* community that has become a ghost town. As they sign to each other — the daughter is deaf, and knowing sign language helped them keep each other alive as their neighbors were killed. The spidery creatures who have wreaked havoc* have exceptional hearing. Being blind, that's the only way they can locate things to eat. Two parents and three children start the long walk back home. In a beautifully staged, heartbreaking scene, one of the children makes a mistake and gets killed.
A little over a year later, Mom is pregnant. A soundproofing scheme* is being planned. The four live in a house with a big red barn and corn silos next door. The camera notes clever adjustments they've made to turn life's volume down.
Scenes of what passes for ordinary life let the screenplay focus on Mom and Dad's efforts to educate their son (Noah Jupe) and daughter (Millicent Simmonds) while never letting them forget how dangerous their lives are.
Blunt is a loving mother who can't help but whisper just a tiny bit as she encourages her son to be brave; Krasinski's expressive eyes are especially well suited to expressing the depth of his concern for them.
Down in the basement, Dad's keeping track of what they've learned about the monsters; trying to communicate with the outside world via Morse code and shortwave; and making repeated, failed attempts to fix the hearing aid connected to the girl's cochlear implant*.
Blunt's character will go into labor before the movie ends. But that's just about the only predictable* thing here, and the film finds ways to turn even that into a surprise. (SD-Agencies)