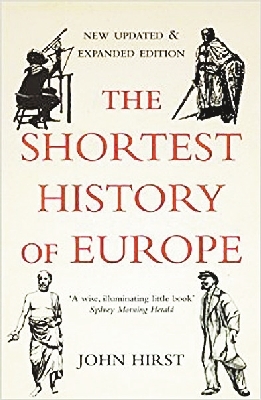 《极简欧洲史》
This interesting book can serve as a quick guide to the history of Europe through its three main eras: classical, medieval and modern. The book offers the reader an integral*, complete and concise history of how the Greek and Roman cultures are the basis of all of Europe. Spinning ideas, periods and events, the author offers a nice way to build a mental story that is easy to understand for the reader.
In this short book, acclaimed historian John Hirst provides a fascinating exploration of the qualities that have made Europe a world-changing civilization, born from an unlikely mixture of classical learning, Christianity and German warrior culture.
Starting with a rapid historical overview from the ancient Greeks to the present day, Hirst goes on to explore in detail what makes Europe unique: its political evolution*; the shaping influence of its linguistic boundaries; the crucial* role played by power struggles between the Pope and emperors; and of course the great invasions and conquests that have transformed* the continent.
Accompanied by lively illustrations, the book is a clear, humorous and thought-provoking account of European civilization.
That said, the book does not talk much about the modern European era and only offers a basic account of the 19th and 20th century.
It's available at online bookstores like jd.com.
(SD-Agencies)