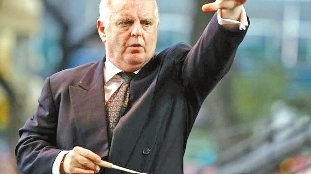 丹尼尔·巴伦博伊姆因抗议反犹太的歌词 归还已获得的德国音乐奖
The Berlin-based conductor Daniel Barenboim is returning prizes he has won at Germany's biggest music awards in a row over what he said were "clearly anti-Semitic" rap lyrics.
The Israeli said he was protesting against an Echo Music Award being given to German rappers Kollegah and Farid Bang this year.
On one track they sing that their bodies are "more defined than an Auschwitz prisoner."
The awards have faced heavy criticism.
In a statement, Barenboim, who is also the general music director of the Berlin State Opera and the Staatskapelle Berlin, described the rappers' lyrics as "clearly anti-Semitic, misogynist*, homophobic* and contemptuous* of human dignity*."
"Decency and humanity" must outweigh "commercial interests," he said, explaining his move to return Echo Music Awards that he has won.
Barenboim, who accepted honorary Palestinian citizenship in 2008, has famously set up an orchestra made up of young Arab and Israeli musicians, known as the West-Eastern Divan Orchestra.
The orchestra has performed in the West Band and the Gaza Strip.
The winners of the Echo Music Awards are determined annually based on the number of albums sold in the previous year.
Kollegah and Farid Bang were honored in the hip hop/urban category after selling more than 200,000 copies of their album "Young, Brutal and Handsome 3."
A number of musicians, Jewish organizations and German politicians have condemned* the decision to give the rappers the award.
Kollegah and Farid Bang have since said they are not anti-Semitic, inviting Jewish fans to attend their concerts for free. (SD-Agencies)