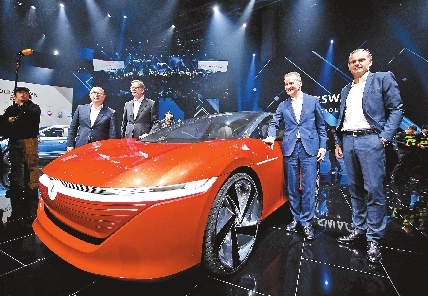 GLOBAL carmakers touted their latest electric and SUV models in Beijing yesterday, as China promises the further opening up of the world's largest auto market.
Industry behemoths like Volkswagen, Daimler, Toyota, Nissan, Ford and others are displaying more than 1,000 models and dozens of concept cars at the Beijing auto show, which opened yesterday.
Thousands of Chinese auto enthusiasts are expected to wander the halls of the mega exhibition center this week, with electric cars and gas-guzzling sport-utility vehicles (SUVs) grabbing the spotlight.
Nissan presented its first Made-in-China electric car produced for Chinese consumers, the four-door Sylphy Zero Emission, with a drive range of 338 kilometers.
"The new Sylphy Zero Emission is the next step in our electrification strategy for China," said Jose Munoz, Nissan's chief performance officer, adding that the company will unveil 20 electrified models over the next five years.
China last week announced it will liberalize foreign ownership limits in the sector. China currently restricts foreign auto firms to a maximum 50-percent ownership of joint ventures with local companies.
The show comes as China's market hits a transition period — the explosive growth in car sales seen over the last decade slowed last year and data from early this year point to a continued slump for many vehicle types.
Chinese consumers are following their American peers toward SUVs while policymakers push an all-electric future.
Accounting for some 28.9 million car sales last year, the Chinese market could soon match those of the European Union and United States combined.
General Motors sold over 4 million cars in China last year, more than in the United States. Volkswagen sold more than 3 million, roughly six times its home market.
But domestic firms are outselling foreign firms in the SUV segment.
In the electric car market the figures are even more lopsided, as China has heaped money on projects to dominate what it sees as the future.
At the auto show, the domestic upstarts have a separate exhibition hall mostly to themselves — 124 of the 174 electric car models on display are homegrown.
Volkswagen announced Tuesday investments of 15 billion euros (US$18 billion) in electric and autonomous vehicles in China by 2022.
"China is our second home," recently installed chief executive Herbert Diess said at a Beijing press conference, with its market set to be "the biggest" worldwide for electric cars.(SD-Agencies)