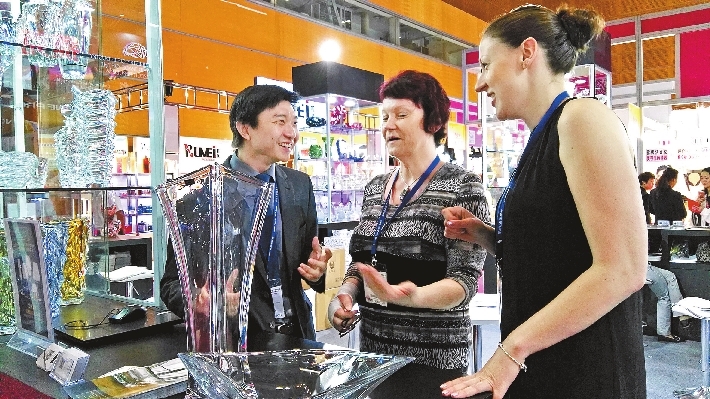 Zhang Yu
JeniZhang13@163.com
SMART electronic products once again attracted the eyes of visitors on the opening day of the 26th China (Shenzhen) International Gifts, Handcrafts, Watches and Houseware Fair that opened in Futian District yesterday, as the themed hall gathered huge crowds of people.
Seeing an increased demand for electronic products in the consumer market, the organizer has specifically opened a mobile electronics hall this April, bringing a variety of cutting-edge mobile electronic products to the visitors.
Divoom, a Bluetooth wireless speaker, has drawn in a lot of young people at the hall. Different from ordinary Bluetooth speakers, Divoom taps into the concept of pixel art, a genre of digital art relying on raster-based graphics. It is most often seen as the art style for games and gaming-related illustrations.
"Focusing on making speakers for 12 years, we've always been developing better products and looking for new ideas. Three years ago, we joined the Maker Faire in the United States and were inspired to use LED lights to light up our products," said Sun Guodong, sales director of the company.
Over a million such speakers were sold globally in 2017, according to Sun. The speakers mainly cater to young people and those interested in playing games.
Other electronic products, such as wireless chargers, headphones, smart watches, and portable printers, have also engaged a large number of visitors.
Another highlight of the gift fair is the overseas hall, where enterprises from South Korea, the Czech Republic, Zambia, India, Thailand and China's Hong Kong and Taiwan display exotic and exquisite products.
For the first time, a Czech pavilion was set up at the overseas hall, which is a part of the Czech Days events initiated by the Embassy of the Czech Republic. The series of events are aimed to further promote exchanges and cooperation in business, investment, culture and tourism between the two countries.
Barbora Kocourkova, deputy head of the embassy's economic section, said currently there are 37 Czech firms that are accessible on Chinese e-commerce platforms such as T-mall and Suning.
Covering an area of 110,000 square meters and having nearly 2,500 exhibitors from home and abroad, the fair runs until Saturday at the Shenzhen Convention and Exhibition Center.