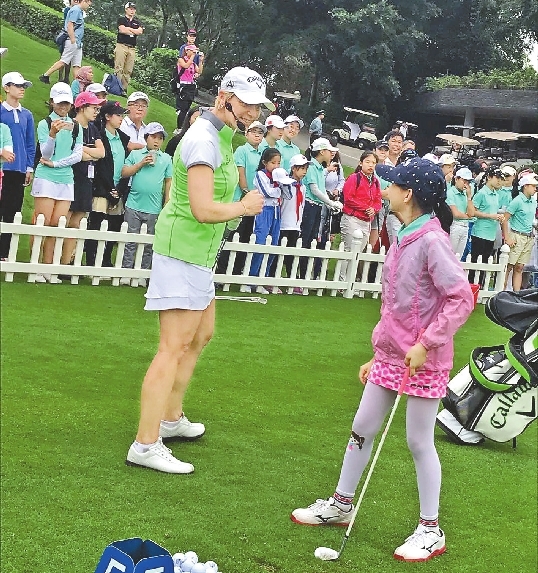 Windy Shao
windysjf@hotmail.com
GOLFING legend Annika Sorenstam told local fans at the Mission Hills Dongguan resort that she was a little surprised when she was recently ranked number 6 on ESPN's list of all-time Most Dominant Athletes.
"I never felt a moment that I am dominant in my sport. I'm always trying to figure out ways to get better."
"My son saw the list and he couldn't believe that I was ahead of soccer idols like Cristiano Ronaldo."
Sorenstam was in Dongguan on Wednesday to host the eighth edition of her hugely-popular Annika Invitational at Mission Hills.
She told young girls to trust themselves and keep going.
"Attitude is so important, if you can't be nice to yourself, who will be nice to you? I know you've worked very hard to get here, so do not go out on the course and pretend you are not a good golfer," she told the audience while giving a clinic on the course.
When being asked what kind of advice she will give to her younger self, she said: "Be more patient, as some people say, smell the roses along the way, you need to enjoy the journey."
Launched in 2011 as China's first and only all-girls event, this year features another long list of top female golfers in action from Wednesday to Friday.
Some of the top ranked juniors in China and 2016 Annika Invitational winner An Ho-yu will be up against the largest ever contingent of overseas golfers, representing 11 countries and regions including India, Japan, Malaysia, Mongolia, New Zealand, the Philippines, Singapore, the United States, and Chinese Taipei and Hong Kong,
"It's really incredible how much our event has grown since its inception in 2011," said 10-time Major champion Sorenstam. "We're delighted to have such an exceptional partner in Mission Hills and look forward to yet another extremely successful tournament."
"We are always delighted to welcome Annika back to her home away from home at Mission Hills and we are in awe of the time and effort she devotes to growing golf globally, including here in China," added Tenniel Chu, vice chairman of Mission Hills Group.
"This year promises to be extra special with so many strong entries. It is also the year of the Youth Olympic Games in Argentina, which we will celebrate with an extra team event, giving the players a chance to bid for selection for Buenos Aires 2018."
With R&A and CGA ranking points on offer, top female golfers aged 9 to 17 compete over three rounds on the highly-acclaimed Annika Course at Mission Hills Dongguan for the title of champion and a place in the prestigious Annika Invitational in the United States.
Annika also spent time with the players both on and off the course, sharing the knowledge and experiences that have made her the most successful female golfer of all time with more than 90 international wins as a professional.