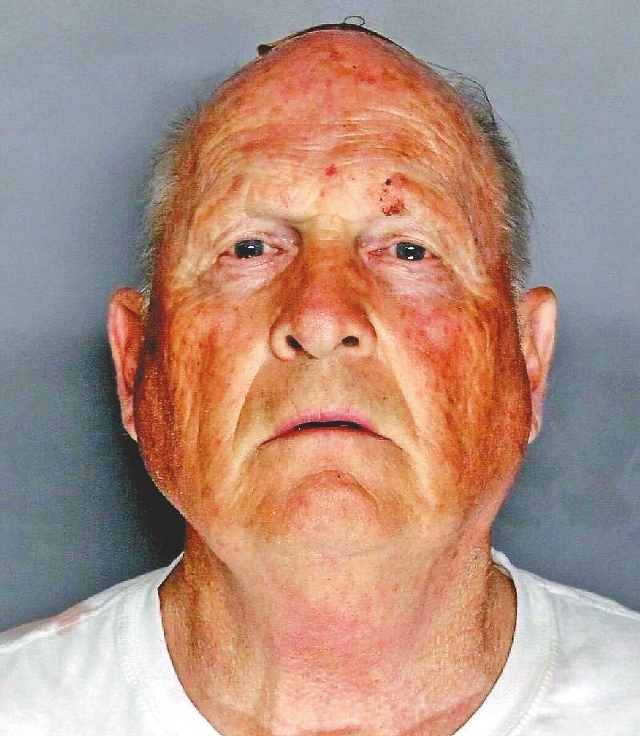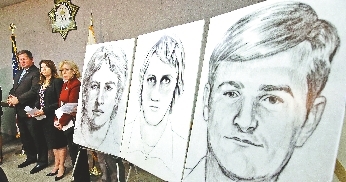 A MAN once sworn to protect the public from crime was accused Wednesday of living a double life terrorizing suburban neighborhoods at night, becoming one of California's most feared serial killers and rapists in the 1970s and 1980s before leaving a cold trail that baffled investigators for more than three decades.
Former police officer Joseph James DeAngelo, 72, was arrested at his home after DNA linked him to crimes attributed to the so-called Golden State Killer. He initially was charged with eight counts of murder and could face dozens more charges, authorities said.
The culprit, also known as the East Area Rapist among other names, is suspected of at least 12 slayings, 50 rapes and more than 100 residential burglaries in 10 counties from northern to southern California between 1976 and 1986. The armed and masked prowler snuck in through windows at night and surprised sleeping victims who ranged in age from 13 to 41.
When encountering a couple, he was known to tie up the man and pile dishes on his back. He threatened to kill both victims if he heard plates crash to the floor while he raped the woman. He then ransacked the house, taking souvenirs, notably coins and jewelry before fleeing on foot or bicycle.
The Golden State Killer committed his first murder in 1978, slaying a couple who were walking their dog in Rancho Cordova, Sacramento.
Between 1979 and 1981, he was involved in the rape and murder of several individuals, including couples, in southern California. These victims were tied up in the same manner as the Sacramento area rapes and their homes were also ransacked.
After July of 1981, no additional incidents related to the Golden State Killer were reported until the rape and murder of an 18-year-old girl occurred in May 1986. This was the last known incident related to the Golden State Killer in California.
Despite an outpouring of thousands of tips over the years, DeAngelo's name had not been on the radar of law enforcement before last week, Sacramento County District Attorney Anne Marie Schubert said.
"We knew we were looking for a needle in a haystack, but we also knew that needle was there," she said. "It was right here in Sacramento."
A break in the case and the arrest came together at "light speed" over the past six days, Schubert said, though authorities refused to reveal what led them to DeAngelo.
Sacramento Sheriff Scott Jones said detectives with "dogged determination" were able to get a sample of DNA from something DeAngelo discarded, though he wouldn't say what the item was.
The genetic material was not a match, but there were enough similarities for investigators to return for more and they said they were able to get a conclusive match.
After watching DeAngelo for several days, deputies took him by surprise Tuesday.
"It looked as though he might have been searching his mind to execute a particular plan he may have had," but never had time to act, Jones said.
Jones said DeAngelo has adult children, but wouldn't comment further on his family. He said authorities have interviewed his family members, and the arrest came as "quite a shock" to them.
Ventura County District Attorney Gregory Totten said prosecutors would seek the death penalty.
According to The Sun, DeAngelo was a native of Bath, New York, who served in Vietnam after graduating from Folsom Senior High School in June 1964. He competed an associate's degree with honors in police science at Sierra College. He then graduated from California State University at Sacramento with a degree in criminal justice.
DeAngelo, who served in the U.S. Navy, was a police officer in Exeter in San Joaquin Valley from 1973 to 1976, at a time a burglar known as the Visalia Ransacker was active, Jones said.
He transferred to the force in Auburn in the Sierra foothills near where he grew up outside Sacramento. About 50 crimes, including two killings, were attributed to the East Area Rapist during the three years DeAngelo worked in Auburn, but Jones said it wasn't clear if any were committed while on duty.
DeAngelo was fired from the Auburn department in 1979 after being arrested for stealing a can of dog repellant and a hammer from a drug store, according to Auburn Journal articles from the time. He was convicted of the theft and fined US$100.
Ten slayings occurred after he was fired, all of which took place in southern California.
Although it's unusual for serial killers to quit, Jones said they have no reason to think DeAngelo continued to commit crimes after 1986, when his last rape and killing occurred in Orange County.
"We have no indication of any crimes with a similar or at least a close enough link to his MO and other things that he's done in the past to link him to anything from 1986 on," Jones said. "We just have nothing at this point."
Jones said he always thought the rapist was alive, but might be in prison.
For the prosecutors and investigators, the arrest not only marked a significant professional achievement but also a personal one that had touched their formative years and early careers.
The wave of horrifying crimes had brought an end to a more innocent era in the Sacramento suburbs when children rode bicycles to school, played outside until dark and people didn't lock their doors, Schubert said.
"It all changed," said Schubert, who was 12 at the time. "For anyone that lived here in this community, in Sacramento, the memories are very vivid. You can ask anyone who grew up here. Everyone has a story."
Totten said he was a young law clerk in the office during the investigation into the 1980 slayings of Lyman and Charlene Smith that "struck terror in the hearts of Ventura residents."
"We had no idea this killer was connected to so many other crimes," Totten said.
In 1999, Orange County sheriff's homicide detectives were able to use DNA to link the Irvine slaying of Keith and Patrice Harrington to nine other slayings in Orange, Ventura and Santa Barbara counties. The genetic evidence was later used to connect the same suspect to dozens of rapes in northern California.
The case received renewed media attention earlier this year with the publication of the book "I'll Be Gone in the Dark," by the late Michelle McNamara.
For years, McNamara immersed herself in the mystery of the Golden State Killer. She visited crime scenes and interviewed detectives and survivors. She died in 2016 at age 46, prior to the book's publication.
In January, the comedian Patton Oswalt, who was married to McNamara, announced the release of the book, telling his Facebook followers he hoped it would help crack the case.
"I can't help feeling that somewhere, in her final pages, she left enough clues for someone to finish the job she couldn't — to put California's worst serial killer behind bars," he wrote.
Harrington's brother, Bruce, helped bankroll a successful 2004 ballot initiative campaign to take DNA from all convicted felons and some arrestees.
"To the victims, sleep better tonight, he isn't coming through the window," Bruce Harrington said at the news conference announcing the arrest.
Jane Carson-Sandler was one of the first victims when she was sexually assaulted in 1976 in her home in Citrus Heights, the same community where DeAngelo was arrested in his home.
She said she received an email Wednesday from a retired detective who worked on the case telling her they identified the rapist and he's in custody.
"I have just been overjoyed, ecstatic. It's an emotional rollercoaster right now," said Carson-Sandler, who now lives near Hilton Head Island, South Carolina.
FBI agents and other investigators were gathering evidence at DeAngelo's neatly kept home Wednesday. Jones said they were looking for mementos that may have been stolen from victims.
Neighbors said DeAngelo took meticulous care of his house, which was always perfectly painted and his lawn manicured. But he was known for an explosive temper and loud cursing.
Neighbor Kevin Tapia said when he was a teenager, DeAngelo falsely accused him of throwing things over their shared fence, prompting a heated exchange between DeAngelo and his father.
"No one thinks they live next door to a serial killer," Tapia said. "But at the same time, I'm just like, he was a weird guy. He kept to himself, but I would never suspect it."(SD-Agencies)