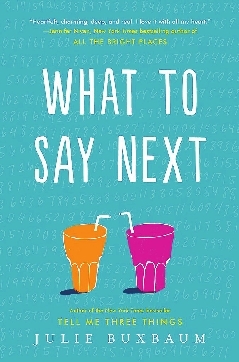 David is a middle-class high school student who describes himself as nonneurotypical*, or having a "borderline case of Asperger's." He has a loving family, including an older sister who deftly helps him navigate social interaction, in part through a notebook wherein he describes his world and determines whom he can trust.
He is picked on* by the "popular" kids. He keeps to himself, walking to class and lunch with his headphones on to drown out the noises, until one day, Kit sits down next to him. David and Kit have gone to school together for most of their lives but Kit isn't usually in his orbit*.
Kit is an ambitious only-child wracked with grief*. Her father, David's dentist, recently died in a car accident. Fleeing devoted friends who suddenly seem ridiculously* shallow* and self-absorbed, Kit sits at David's table one day for lunch. Tired of pity and platitudes*, she warms to David's "brutal honesty" about the death of her dad. Slowly, with pathos and humor, Kit and David develop a friendship. As they become closer to each other, David tells her he will help her try and figure out just what happened at her father's car accident.
Their story emerges from alternating first-person narratives that progress effortlessly. The pair's friendship is tested by David's inability to read cues and by closely held secrets that both of them are nursing. It blooms into first love, and both grow as a result of their challenges.
The book is available at online bookstores like jd.com.
(SD-Agencies)